Looking for something easy but delicious to serve for Christmas morning that won't ruin your low-carb diet? These low-carb Christmas breakfast recipes are the perfect solution. Make something everyone will love and won't even know is low-carb.
All of these recipe – gathered from expert low-carb bloggers – are less than 6 net grams of carbs, but won't leave your family wondering what happened to breakfast.
» You might also be interested in Are Deviled Eggs Keto Friendly?
Other recipe compilations you might like:
12 Low Carb Bread Recipes (With 5 Ingredients or Less)
17 Keto / Low Carb Breakfast Ideas
Keto Breakfast Frittata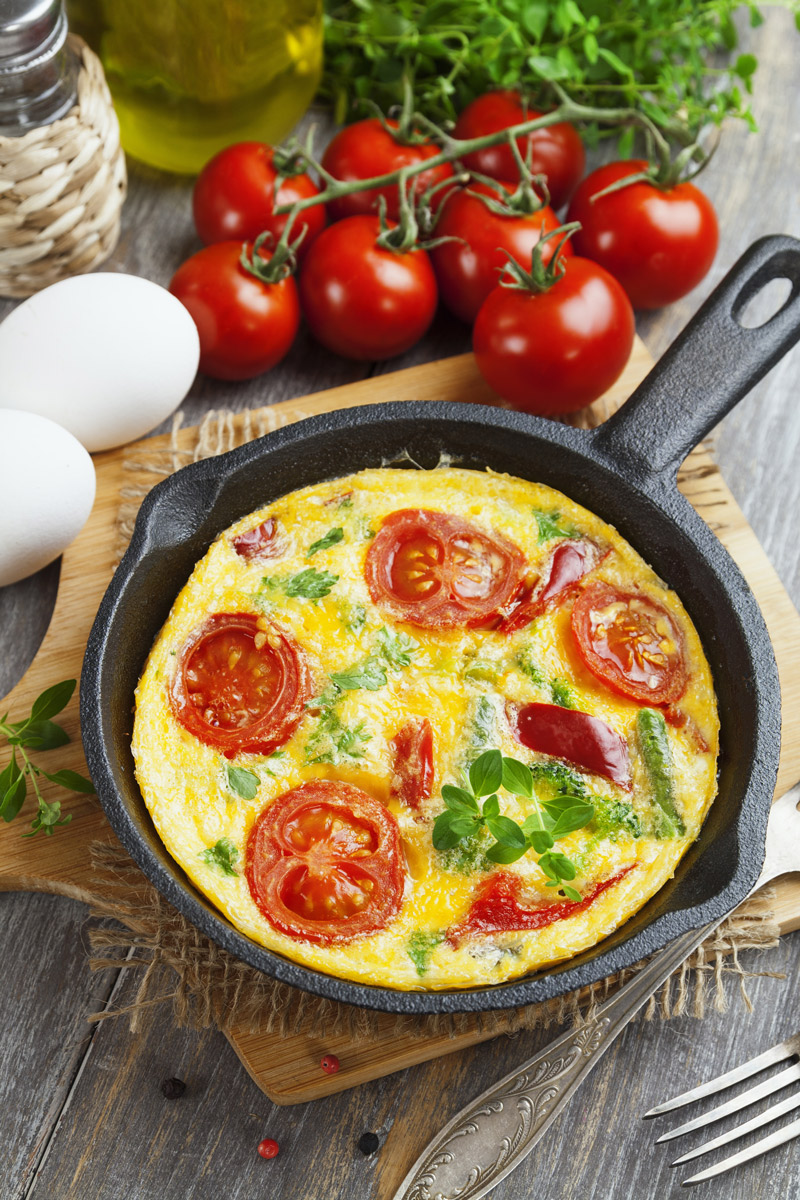 A Keto Frittata is perfect for Christmas breakfast. It's gorgeous with the bright red and green veggies and glistening eggy exterior. And it can be filled with whatever veggies you love for a satisfying (and gorgeous) breakfast.
Net carbs: 2g
Servings: 4
Bacon, Cheddar & Broccoli Breakfast Casserole
This low-carb Bacon Cheddar and Broccoli Breakfast Casserole is super tasty and quick to put together, so it makes a great addition to your family breakfast or brunch spread.
Net carbs: 4g
Servings: 6
Keto Coconut Flour Pancakes
These light and fluffy Keto Coconut Flour Pancakes are the perfect low carb breakfast for Christmas. Serve with strawberries and sugar free pancake syrup for a real treat with Christmas color.
Net carbs: 4g
Servings: 4 (easily scalable)
Keto French Toast Casserole
This gluten free & keto French Toast Casserole is a quick breakfast bake made with low carb fathead dough, eggs and cinnamon. It's the perfect easy keto breakfast or brunch for the holidays!
Net carbs: 3.5g
Servings: 6
Keto Eggs Benedict Chaffle
Dazzle everyone on Christmas morning with this brunch classic turned low-carb: Eggs Benedict Chaffles!
Net carbs: 3g
Servings: 2 (easily scalable)
Keto Coconut Flour Crepes
Coconut flour crepes are easy to make and can be made quickly while the whole family enjoys them for Christmas breakfast. Each crepe has only 1.4 g net carbs. Serve them with sugar-free jam or syrup, or just butter and a sprinkle of powdered sugar substitute.
Net carbs: 1.4g per crepe
Makes: 6 4″ crepes (easily scalable)
Broccoli & Ham Crustless Quiche
Make Christmas morning simple with this make-ahead delicious crustless keto quiche you can serve warm or cold, or for breakfast or brunch.
Net carbs: 4g
Servings: 8
Veggie Egg Bake
This High Protein Veggie Egg Bake is loaded with veggies and protein for a healthy breakfast. Great option for meal prepping or a weekend brunch!
Net carbs: 2g
Servings: 8
Bacon Cheddar Crustless Quiche
Cheesy and satisfying Bacon Cheddar Crustless Quiche is an easy make-ahead breakfast bake that gets lightened up with cottage cheese.
Net carbs: 1g
Servings: 8
Christmas Morning Shakshuka
Shakshuka is a gorgeous looking dish of eggs poached in a sauce of tomatoes, peppers and garlic commonly spiced with cumin, paprika and cayenne pepper. It makes a lovely Christmas morning breakfast.
Net carbs: 6g
Servings: 6
» Looking for more great ideas? Click here for low-carb chicken recipes, healthy low-carb snacks, and easy low-carb desserts.
Spinach, Bacon & Mushroom Quiche with Sweet Potato Crust
Who says healthy food has to be boring? This Sweet Potato Crust Quiche is stuffed with spinach, mushrooms, and turkey bacon, but you'd never think it was gluten-free, dairy-free, or just 110 calories per slice!
Net carbs: 7g
Servings: 8
Green Chile & Cheese Breakfast Casserole
This Green Chile and Cheese Keto Breakfast Casserole is a great combination of flavors, and this recipe uses the canned green chiles I always have in the house!
Net carbs: 6g
Servings: 8
Sheet Pan Eggs
Easy sheet pan eggs to feed a crowd, made in just half an hour. Perfect for breakfasts, brunches, light lunches, and meal prep.
Net carbs: 1g
Servings: 12
Easy Instant Pot Breakfast Casserole
Use any ingredients you want in this easy-to-make low maintenance breakfast casserole that cooks in the Instant Pot in just 20 minutes. Add bacon, cheese, onions, bell peppers – anything you like. It's all held together with egg.
Net carbs: 2g
Servings: 6-8
More Recipes from Delightfully Low Carb
Like this post? Be sure to save it on your Pinterest board for later! Click to follow our Pinterest boards so you can find all our recipes!
Laura is an avid home cook and recipe creator. She shares her favorite low-carb recipes here that are both easy to make and full of flavor, so you don't even miss the carbs.