Keto Almond Flour Biscuits, made with blanched almond flour, are surprisingly simple to make and are a great substitute for flour biscuits, with just 3 net grams of carbs per biscuit.
» With these biscuits, you can make biscuits and gravy or biscuits and gravy casserole.
I was really craving biscuits & gravy for breakfast after I started on a keto diet. It was something I'd make once a month or so before, but suddenly it was off limits. Surely, there was a way to still enjoy biscuits and gravy!
One of the things I love most about a keto diet is that even the things that are off limits have an alternative that's, at the very least, passable as a substitute. Craving noodles? There's Miracle Noodles. Craving hamburgers? Use Cloud Bread for buns! Craving pizza? Make Fathead Pizza Dough. Fathead dough can even be used to make Keto Bagels.
Well, I'm happy to say that there's also an alternative to flour biscuits! These almond flour biscuits can be made almost the exact same way as wheat flour biscuits, and they are really good. These ham and cheese biscuits are made with almond flour as well.
The best news is that each biscuit has just 3 grams of net carbs. That makes it possible to eat 2, if you want, or make the biscuits larger and use them for a breakfast sandwich. You decide, based on your own macros.
Do Almond Flour Biscuits Taste Like Regular Biscuits?
These almond flour biscuits don't taste exactly like flour biscuits. You can expect that, when these are made with almond flour. I think the most noticeable difference is in the texture. They're a bit more crumbly and textured.
No, they aren't an exact substitute, but they are a very good alternative when you're craving biscuits.
The taste is very similar, the look is very close too. They crumble like biscuits. They even get a little crunchy and flaky. I honestly think I could serve one of these biscuits to a friend and not have them know it's almond flour. That's good enough for me.
Don't like almond flour? Read here for The Best Almond Flour Substitutes.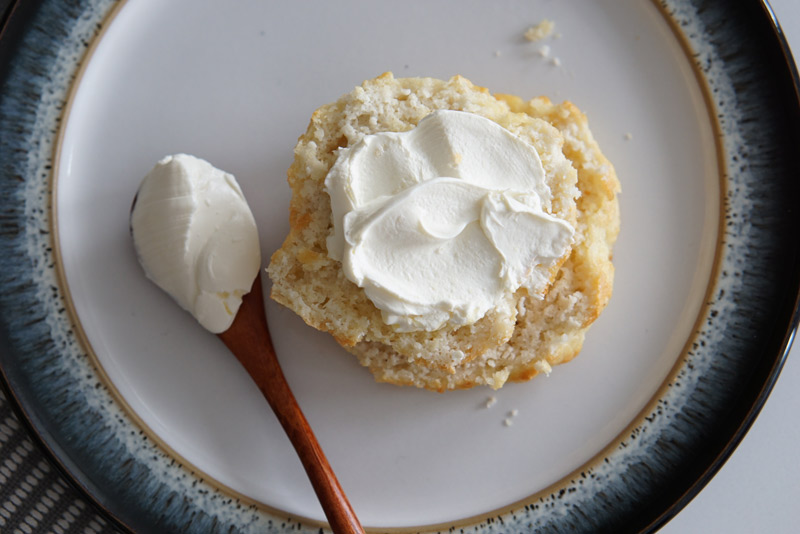 Keto Biscuit Recipe Ingredients
There are just 5 ingredients in these biscuits. I keep these things around the house naturally, so I can always make up a batch of biscuits without having to plan for it when I order groceries.
You'll need:
Almond flour – use fine ground blanched almond flour for the best results.
Baking powder – Make sure your baking powder is fresh (less than 6 months old).
Butter – I always use salted butter, but you can use either.
Egg whites – You just need the whites for this recipe, but you can save the yolks for another use.
Salt – optional, depending on what type of butter you use.
A note about the butter and salt. If you cook with unsalted butter, you should add the salt. If you cook with salted butter, you can leave out the salt.
For reference, my favorite no-fail wheat flour biscuit recipe has almost the same ingredients. I designed this recipe that way on purpose, so they'd turn out as closely as possible to those.
I've seen many recipes for low-carb biscuits that have sour cream in them. I don't find that to be a necessary ingredient.
Tips for Making Great Biscuits
It's important that the almond flour and butter be as cold as possible when you incorporate them. They cook best when the ingredients are cold. The little bits of cold butter in the dough is what gives the biscuits their flakiness.
It's much easier to reach the right consistency when you "cut" the butter into the flour. You can do this with a fork or with a pastry cutter.
This is an almond flour recipe. Please don't substitute coconut flour for the almond flour. The two are not interchangeable. Coconut flour is way more absorbent so you need a lot less, and coconut flour has a pretty strong taste of coconut.
About Almond Flour
These biscuits will turn out best if you use blanched almonds. Blanched just means that the skin has been removed from the almond before it was ground up. Read more about the difference here. The outcome is a lighter, prettier biscuit, and less mealy.
I use almond flour from WholesomeYum, which you can buy directly through that link (it's our affiliate link). It's the best almond flour I've found. It's a blanched finely ground almond flour with a great texture and flavor, with just 2 grams or net carbs per serving.
I weigh out the almond flour and stick it in the fridge 20 minutes before I plan to use it, so it's nice and cold.
How to Make Keto Biscuits
Start with cold almond flour, if possible. Put the flour in the refrigerator for 20 minutes to chill it down. This will help keep the butter cold right up until you bake it.
Step One: Mix dry ingredients
Add the baking powder and salt to the flour. Then cut the butter into the flour. I do this with a pastry cutter. You can do it with a fork, if you have the patience. Or you can use a food processor to quickly pulse it together. If you do use a food processor, it is vital that your ingredients are cold.
Step Two: Cut in the butter
Keep cutting in the butter until it's in small pebble sizes, dispersed among the flour.
Softened butter will not incorporate correctly into the flour. It will melt into it and form a gloopy blob. Don't do it. If the butter isn't cold and stiff, take the time to chill it first.
Step Three: Stir in the egg whites
Quickly whisk the egg whites in a separate bowl for just a few seconds. Then combine them with the dough and stir it all together. No need to overstir. Just get it all combined. It will still have bigger pieces of butter in it. That's what you want.
Step Four: Form 5 balls of dough
Add the dough balls in the sizes you want to a baking sheet covered with parchment paper or a silicon baking mat. I flatten them down just a bit to spread them out. they won't fall or spread much in the oven.
The recipe makes 5 biscuits that are 3 net grams of carbs each. You can make them smaller or larger to suit your needs (adjust the carb count accordingly).
Step 5: Bake
Bake the biscuits at 350 degrees F for 15 minutes. I have to watch mine pretty closely after the 12 minute mark and take them out as soon as they turn golden.
The biscuits are light and fluffy when you take them out. Serve them right away with some butter, or use them to make biscuits and gravy. Serve them in place of scones for a fun afternoon tea. The possibilities!
You can even use these biscuits to make a breakfast sandwich, or as slider buns. These keto ham and cheese bites are very similar and would make great biscuits and gravy.
Keto Biscuits FAQs
Can I add spices and other flavorings to keto biscuits?
You can absolutely add spices or other flavorings to these biscuits. One of my favorites is the cheddar bay biscuits that Red Lobster makes. You can add 1/2 tsp garlic powder and 1/2 cup shredded sharp cheddar cheese to this recipe to make those.
Adding Everything Bagel seasoning to the biscuit dough is another favorite. It has garlic, sesame seeds, and other bits of flavoring that's really tasty.
Just be sure not to add any ingredients that are liquidy and would change the consistency of the dough, such as honey or maple syrup.
How to serve almond flour biscuits?
The most common way that I serve these biscuits is Biscuits & Gravy for breakfast. However, there are many ways to serve these. You can serve them on the side of any meal as a bread replacement. You can use them to make breakfast sandwiches. You can serve them with clotted cream and a cup of tea.
How many carbs are in these almond flour biscuits?
There are 3 net grams of carbs in each keto biscuit. This recipe will make 5 biscuits. If you choose to make them bigger, they'll be slightly more carbs per biscuit, but still very low.
Are biscuits keto friendly?
Regular wheat flour biscuits are not keto friendly because they are made with wheat flour which has a lot of grams of carbs per serving. When you swap the wheat flour with almond flour, as we do in these biscuits, they are definitely keto friendly. In fact, you go from having about 27 grams of carbs to just 3 net grams of carbs in these keto biscuits.
Can you freeze keto biscuits?
Yes, you can freeze these biscuits once they've cooled after baking. They will keep well in a freezer bag for up to 3 months. They can be reheated in the microwave or the oven. This is a great way to always have biscuits on hand when you need them, rather than having to make a new batch each time
Related Posts:
What Our Readers Are Saying
Amber says:
These are the best keto biscuits!! Thanks for posting
Jennifer says: Wow. Just tried these out. I have made so many different keto biscuits. Some were good, some were ok. But this recipe was actually the most like a real good fluffy soft biscuit! Like the kind if biscuit that would satisfy a craving for a McDonalds biscuit. Excellent! I can stop looking for biscuit recipes now!
Julia says: Wow wow wow!! I really didn't have high expectations but I have to say these are SO GOOD!
More Recipes from Delightfully Low Carb
Pin it! If you liked this recipe please share it on Pinterest so others can find it too. We always appreciate your support! Follow us on Pinterest and Facebook to keep up on what we're cooking up.
Keto Almond Flour Biscuits Recipe
Keto Biscuits made with almond flour are surprisingly simple to make and are a great substitute for flour biscuits.
Print
Rate
Ingredients
1 1/8

cups

blanched almond flour

(120g) chilled

1

teaspoon

baking powder

(5g)

1/4

teaspoon

salt

(1g) omit if using salted butter

3

tablespoons

cold unsalted butter

cut into cubes (45g)

2

egg whites

lightly beaten
Instructions
Pre-heat the oven to 350 degrees F (180 C). Prepare a baking sheet by lining it with parchment paper or a silicon baking mat.

Combine almond flour, baking powder and salt in a large bowl.

Add the cubes of cold butter to the bowl and cut the butter into the flour using a pastry cutter or fork. Combine until the mixture is in gravel-sized pieces.

Whisk the egg whites in a separate bowl, then add them to the flour mixture. Stir until fully combined. Don't over stir. Butter chunks will remain.

Using your hands or a spoon, scoop out enough dough to form a biscuit. Place it on the baking sheet. Continue until you've formed all of the biscuits. Make sure to space them apart so they have room to grow while baking. Flatten down slightly with your hand.

Bake for 12-15 minutes or when they've turned a nice golden color.
Notes
If using salted butter, omit the extra salt.
Make sure your ingredients are cold. Chill the almond flour 20 minutes before using. Use only cold butter.
The biscuits won't flatten much in the oven. If you want them flatter, flatten them down to the shape you want before baking.
Nutrition
Calories:
209
kcal
|
Carbohydrates:
6
g
|
Protein:
7
g
|
Fat:
19
g
|
Saturated Fat:
5
g
|
Trans Fat:
1
g
|
Cholesterol:
18
mg
|
Sodium:
222
mg
|
Potassium:
22
mg
|
Fiber:
3
g
|
Sugar:
1
g
|
Vitamin A:
210
IU
|
Calcium:
103
mg
|
Iron:
1
mg
The information shown is an estimate provided by an online nutrition calculator. It should not be considered a substitute for a professional nutritionist's advice.
Read More About a Low-Carb Lifestyle
Pin it for later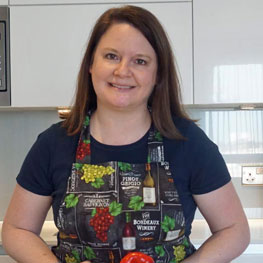 Laura is dedicated to a low-carb lifestyle after losing 52 pounds on the keto diet. As many of us do, she struggles with her weight and has found that one of the only diet lifestyles that allows her to maintain a healthy weight is a low-carb diet.  She shares her favorite low-carb recipes here that are both easy to make and full of flavor, so you don't even miss the carbs.