Cloud bread is a light and fluffy keto bread alternative that's perfect for making sandwiches, snacks, and burgers.
»Looking for bread alternatives? You might like these Wonder Bread Chaffles or Easy Keto Bagels.
I'll just start by saying I didn't create this recipe, but whoever did is a genius. The first mention of this recipe that I can find was from the Atkins Diet, which might be the origin recipe, but it's all over the Internet now, so there's no telling who made the first Oopsie bread, as it's also called.
Bread! Isn't it a wonderful thing? If you are missing it while eating a low carb or keto diet, [...]
Read More
The important part is that this bread alternative is actually good! It's REALLY good, in fact. Plus, it's super easy to make, with just 4 ingredients (eggs, cheese, cream or tartar and salt), and it's ready in just 25 minutes. You really can't beat that.
The one thing you do need to make this cloud bread is either a hand mixer or a stand mixer with a whisk attachment. If you don't have one of these, a whisk will do in a pinch, but you'll also need a strong arm and extra time.
What is Cloud Bread?
Cloud bread (also known as Oopsie bread) is a low-carb, light and airy "bread". It doesn't use any flour – not even coconut or almond flour, like many keto bread recipes do – so it's also gluten-free.
Each piece of bread has about 100 calories and less than 1 gram of carbs.
The whisked eggs make the bread super light, and the addition of either cream cheese or mascarpone cheese holds it all together. There's some magic that occurs between egg and cheese that turns it into a bread-like structure.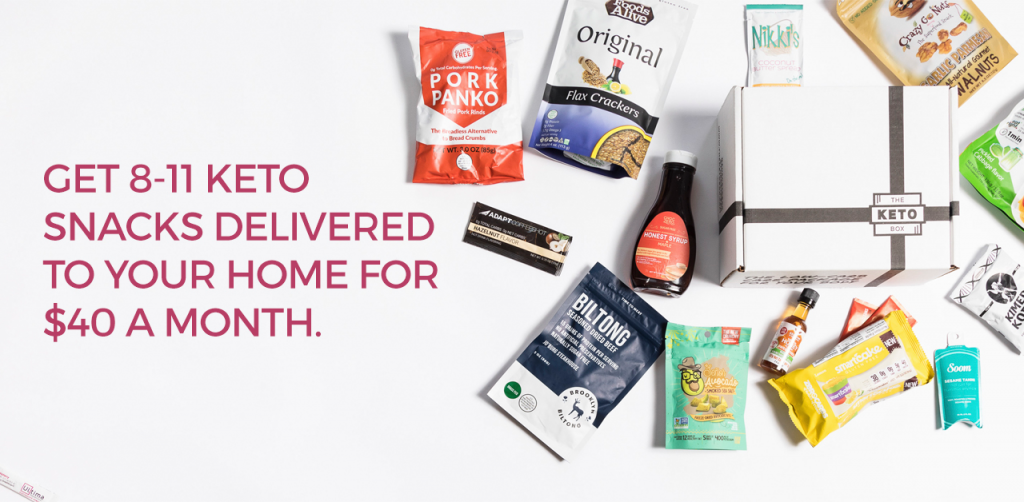 If you've been craving a sandwich or would like to enjoy hamburgers again, then this Cloud Bread is what you've been looking for.
The bread itself has very little taste, so it goes well with a lot of things. You can make breakfast sandwiches, lunch sandwiches, snacks, personal pizzas, hamburgers – you name it.
Ingredients in Cloud Bread
Eggs – use large, free-range eggs. Make sure they're at room temperature before you start
Cream of tartar – Cream of tartar helps stabilize the whipped egg whites and acts as a leavening agent.
Mascarpone cheese – This is a thick, creamy cheese that has very little taste, almost like a firm double cream. It's great for this recipe because you can't really taste it. You can substitute with cream cheese, but it has a sharper taste. Make your own mascarpone with this recipe.
Salt
How to Make Cloud Bread
It's best if your ingredients are at room temperature before you start to mix. Set the eggs and cheese out at least 15 minutes before you begin to bring them to a warmer temperature.
First, you need to prepare a baking sheet and get the oven preheating. For the baking sheet, line it with parchment paper, which makes it easy to peel off the bread once it's cooked. A silicon baking mat is also perfect. Set the oven to 300 degrees F. Any hotter and your delicate cloud bread might burn.
Add the egg whites to a mixing bowl and add in the cream of tartar. Cream of tartar is important in this recipe – it helps stabilize the eggs so they hold their shape. You can make cloud bread without it, but if you're going to make this recipe often – and I think you are – you should invest in some cream of tartar.
Whisk the eggs (either by hand or with a mixer), until stiff peaks form. This is what stiff peaks looks like. [Read more about whisking eggs]
Once you've got the egg whites beaten to stiff peaks, you need to prepare the other half of the recipe.
Combine the mascarpone cheese, egg yolks and a little salt in another bowl. Whisk those together until smooth.
Now you need to fold the cheese mixture into the egg whites. You need to do this rather delicately, so you don't break down the air bubbles in the egg whites that you worked so hard for. Just lightly fold them together with a spatula.
Then you'll need to spread the batter into flat circles on the baking sheet. The recipe will make about 6 4-inch circles. You can make them larger or smaller, depending on what you're using them for. And remember to make them fairly flat, or you'll have a really thick piece of bread.
Bake them in the oven for 20 minutes, watching to make sure they don't get too dark or burn. After 20 minutes, keep an eye on them until they look the way you want them. They should be golden, but not browning, when you take them out.
How Long To Bake Cloud Bread?
Bake the cloud bread in a preheated oven for about 20-25 minutes until lightly golden and set. Once done, the bread should feel firm to the touch.
What Kind of Cheese to Use
I started using the mascarpone cheese version of this bread from Wholesome Yum, so that's what I prefer. However, you can just as easily use cream cheese in this recipe.
Once in a while, I use cream cheese because I can get a lactose-free version of cream cheese that is better for my lactose-intolerant stomach. The choice is up to you. The cream cheese has a sharper taste to it than the mascarpone.
Is Cloud Bread Healthy?
While cloud bread is a healthier alternative for individuals on the keto diet and other dietary needs, it is not nutritionally equivalent to whole-grain bread made from whole-wheat flour. Traditional whole-grain bread provides valuable nutrients like fiber, B vitamins, and minerals that cloud bread may not contain in the same amounts.
Is Cloud Bread Gluten Free?
Yes, cloud bread is gluten-free. It is not made with any flour or any kind, just eggs, cream of tartar, mascarpone cheese, and salt.
What Does Cloud Bread Taste Like?
The taste of cloud bread is best described as very mild and neutral, with a slight egg flavor.
How To Store Cloud Bread
To store cloud bread, use an airtight container and leave it at room temperature for a day or two or store it in the fridge to keep it fresh for longer.
Can You Freeze Cloud Bread?
You can freeze cloud bread for up to 2- 3 months. However, thawing after freezing might affect the texture of the cloud bread.
Frequently Asked Questions
What are the benefits of cloud bread?
Potential benefits of cloud bread include; being low in carbs making it a great option for those on the keto diet, gluten and grain free, high in protein, and also low in calories.
What is keto bread good for?
Keto bread is good for those on the ketogenic diet, diabetics, and those with gluten sensitivity issues.
What is cloud bread made of?
Cloud bread, also known as "oopsie bread," is made using
eggs, cream of tartar, mascarpone cheese or cream cheese, and salt.
Why is keto bread so expensive?
Keto bread is expensive as the ingredients used to make it are more expensive, also it has lower demand, making it a niche product, and it has a limited shelf life.
Other Keto Bread Recipes to Try
Pin it! If you liked this recipe please share it on Pinterest so others can find it too. We always appreciate your support! Follow us on Pinterest and Facebook to keep up on what we're cooking up.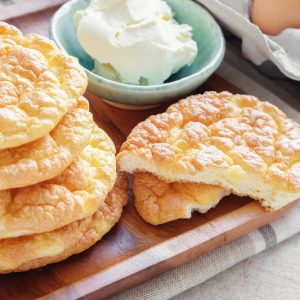 Cloud Bread (Oopsie Bread)
This Cloud Bread is a great alternative bread to use for breakfast, sandwiches and burgers.
Print
Rate
Ingredients
3

large

eggs

separated

1/8

tsp

cream of tartar

3

oz

Mascarpone

or substitute with cream cheese

1/8

tsp

salt
Instructions
Preheat the oven to 300 degrees F (150 degrees C). Line a baking sheet with a silicon mat or lightly greased parchment paper.

Combine room temperature egg whites and cream of tartar in a mixing bowl. Beat until stiff peaks form.

In a second mixing bowl, combine room temperature mascarpone cheese, egg yolks, and salt and beat until smooth.

Using a spatula, gently fold the cheese mixture into the egg whites. Be very careful not to take the air out of the egg whites.

Scoop the mixture onto the baking sheet and spread out into six flat circles. Bake for 20 minutes, then watch carefully until the bread is golden. Then remove and let cool.
Notes
You can use mascarpone or cream cheese in the same quantity.
Stiff peaks will form easier if the eggs are at room temperature before beating.
The cheese must also be softened or at room temperature to mix into the egg yolk.
Nutrition
Calories:
104
kcal
|
Carbohydrates:
1
g
|
Protein:
5
g
|
Fat:
9
g
|
Saturated Fat:
5
g
|
Cholesterol:
120
mg
|
Sodium:
97
mg
|
Potassium:
49
mg
|
Sugar:
1
g
|
Vitamin A:
352
IU
|
Calcium:
36
mg
|
Iron:
1
mg
The information shown is an estimate provided by an online nutrition calculator. It should not be considered a substitute for a professional nutritionist's advice.
Read More About a Low-Carb Lifestyle
Pin it for later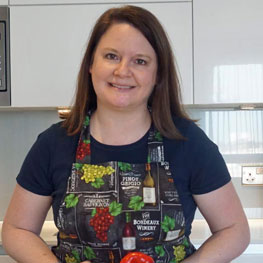 Laura is dedicated to a low-carb lifestyle after losing 52 pounds on the keto diet. As many of us do, she struggles with her weight and has found that one of the only diet lifestyles that allows her to maintain a healthy weight is a low-carb diet.  She shares her favorite low-carb recipes here that are both easy to make and full of flavor, so you don't even miss the carbs.