A Keto Frittata is perfect for breakfast and can be filled with whatever veggies you love for a satisfying (and gorgeous) breakfast.
» You might also like these Keto Eggs Benedict Cups and 17 more Keto / Low Carb Breakfast Ideas.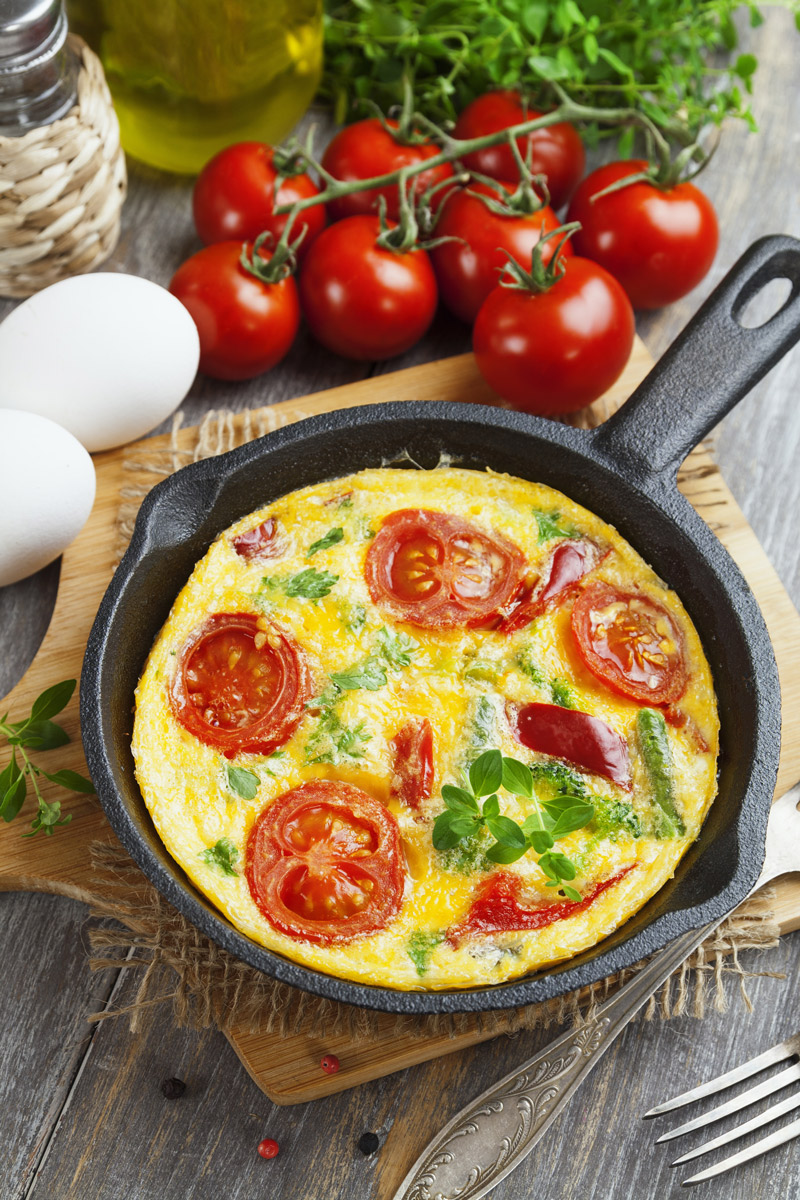 I make this baked frittata for family brunch, because it's perfect for a crowd and it's gorgeous, with the bright red and green veggies and glistening eggy exterior.
Everyone loves this keto-friendly egg frittata for very good reasons. It's keto, low-carb, vegetarian (if you eat eggs), and dairy free. As long as you like eggs, it's a no-brainer. A frittata is basically just an open-faced omelet in a pan. You might also like this low-carb butternut squash and sausage frittata.
It beats having to make a bunch of individual omelets, and it doesn't have a crust, like quiche does. So it's perfect for a keto breakfast.
Since the frittata is meant to be eaten in slices, it's also a great way to bake your breakfast at the beginning of the week and have a slice each day.
What Pan Do You Use For a Frittata?
The most important part of baking a frittata is the pan that you use. Because it's baked, you will need a pan that's okay to put in the oven. A cast-iron skillet is best for this job.
If you don't use a cast-iron skillet, make sure you've buttered or oiled the pan well, so the eggs don't stick.
In a pinch, you can use a round baking dish or pie dish.
Ingredients You'll Need
Not many ingredients needed and most of them are common ingredients you probably already have.
Butter
Bell Peppers – Red, green and yellow or a mixture of these.
Tomatoes
Eggs
Unsweetened almond milk – Almond milk is a great substitute for regular cows milk. Cow's milk has sugar in it making it off limits in a keto diet. Just make sure to get unsweetened almond milk.
Seasonings and herbs – Garlic powder, salt, ground black pepper, and roughly chopped basil.
How to Make a Frittata
A frittata is really just a baked egg. If you're putting ingredients in, like vegetables, they should be cooked slightly before adding, because the egg cooks very fast.
Start with your cast iron skillet over medium heat on the stove top. Add the butter and let it melt. Then add the veggies you're using.
Note: If you're planning to add uncooked meat, like sausage or bacon, you will need to brown that in a different pan and add it in after the vegetables have cooked.
Sauté the veggies for about 3 minutes. For tomato slices, it's best not to push them around in the pan. Just flip them once during cooking.
While the veggies are cooking, whisk the eggs and almond milk together in a bowl. Add the garlic powder, salt and pepper and whisk to combine.
When the veggies are done, remove the pan from the heat. Pour the eggs into the pan with the peppers and tomato. Sprinkle with fresh basil.
Put the pan in the oven and cook for about 10 minutes. Keep a close eye on it, because you don't want it to brown on top. It's done when the eggs are set and no longer jiggly. To check it, just shake the handle of the pan. If the center is set, it's done.
Keto Frittata Ingredient Ideas
I like to keep it simple because I still want to taste the egg in the frittata, but you can really add anything you want to this dish. If you don't like peppers and tomatoes, substitute with onions and ham. Or whatever combination you desire.
Here are some ideas to get you started. All of these ingredients are keto-friendly and won't add extra carbs to the count.
Bell peppers
Tomatoes
Onions
Asparagus
Spinach
Mushrooms
Zucchini
Ham / bacon
Sausage
Shredded cheddar cheese
Feta cheese
Parsley
Basil
Cilantro
Here's a version we love that uses feta, mushrooms and zucchini. See how versatile it is! There are hundreds of combinations you can make.
Are There Carbs in a Frittata?
There are 2 grams of net carbs per serving in this version of the keto breakfast frittata. The carbs come from the tomatoes and red bell pepper. Be aware that onions also have higher carb count, if you're looking to keep the carbs low.
Adding Milk to a Frittata
It's not necessary to add the almond milk to this recipe. If you'd rather leave it out, you can. In a typical frittata, you'd use milk or heavy cream. Since this is a keto recipe, we substitute the milk for almond milk.
I think it leads to fluffier egg. However, the frittata will turn out very good even without the milk.
Tips and Notes
Change up the flavors every time you make a new frittata. Add different veggies, meats and spices.
Spread your veggies evenly in the pan so that they are distributed throughout the frittata.
Don't over whisk your eggs. Adding too much air will cause the frittata to expand while cooking then collapse making it dense.
Always pre-cook your veggies.
Don't overcook your frittata. Cook until just set and no longer jiggly.
Frequently Asked Questions
What is the difference between a frittata and an omelet?
A frittata is cooked slowly over low heat in a cast-iron skillet and then finished in the oven. An omelet is cooked over much higher heat and stirred to be more rough in shape.
Do I have to cook it in a cast-iron pan?
You don't have to but the pan should be one that is oven safe. If you don't use a cast-iron skillet, make sure you've buttered or oiled the pan well, so the eggs don't stick. In a pinch, you can use a round baking dish or pie dish.
More Recipes from Delightfully Low Carb
Like this post? Be sure to save it on your Pinterest board for later! Click to follow our Pinterest boards so you can find all our recipes!
Keto Frittata for Breakfast
This Keto Frittata makes a delicious and versatile breakfast with high protein and low carbs.
Print
Rate
Ingredients
1

tablespoon

butter

1/4

red bell pepper

sliced

1/4

green or yellow bell papper

sliced

2

plum tomatoes

thickly sliced

8

large

eggs

1/4

cup

unsweetened almond milk

or milk of choice

1/2

teaspoon

garlic powder

1/2

teaspoon

salt

1/4

teaspoon

ground black pepper

1

tablespoon

basil

roughly chopped
Instructions
Preheat oven to 400°F (200°C).

Heat a 12″ cast-iron

skillet

over medium heat, add the butter until melted. Add the bell peppers and tomato slices. Cook for 2-3 minutes. Flip the tomatoes over once.

Meanwhile, whisk the eggs with almond milk, then add the garlic powder, salt and pepper and whisk to combine. Pour the eggs into the pan with the peppers and tomato. Sprinkle with basil.

Transfer the pan to the oven and cook until for about 10 minutes, until the frittata is set and no longer jiggly.

Cut into wedges and serve.
Nutrition
Calories:
182
kcal
|
Carbohydrates:
3
g
|
Protein:
13
g
|
Fat:
13
g
|
Saturated Fat:
5
g
|
Cholesterol:
380
mg
|
Sodium:
481
mg
|
Potassium:
240
mg
|
Fiber:
1
g
|
Sugar:
2
g
|
Vitamin A:
1230
IU
|
Vitamin C:
20
mg
|
Calcium:
81
mg
|
Iron:
2
mg
The information shown is an estimate provided by an online nutrition calculator. It should not be considered a substitute for a professional nutritionist's advice.
Other Breakfast Recipes To Try
Click for Even More Breakfast Recipes
Read More About a Low-Carb Lifestyle
Pin it for later
Laura is dedicated to a low-carb lifestyle after losing 52 pounds on the keto diet. As many of us do, she struggles with her weight and has found that one of the only diet lifestyles that allows her to maintain a healthy weight is a low-carb diet.  She shares her favorite low-carb recipes here that are both easy to make and full of flavor, so you don't even miss the carbs.