Biscuits and Gravy doesn't have to be something to avoid while on a keto or low carb diet. This keto biscuits and gravy recipe is so close to the original that you won't believe it's keto friendly.
I've always adored biscuits and gravy. I made it for breakfast on the weekend at least once a month. Then we started a keto diet and my biscuits and gravy was out the window.
That was until I started thinking it through and realized there was a way I could make it keto just by making a few adjustments. I gave it a try one weekend and was incredibly surprised how easy it was.
If you've been craving biscuits and gravy, I'm happy to say that you can go right ahead and eat some. This recipes is very easy. It's so similar to the old way of making it, I think you'll be surprised.
And the best part is that its just 4 grams of net carbs per serving.
If you're looking for more keto breakfast ideas, you'll want to try these coconut flour pancakes, keto chaffles (waffles made with cheese), and our favorite fall treat: keto pumpkin pancakes.
How to Make Low-Carb Biscuits and Gravy
When I make this recipe, I start with the biscuits. You'll need to make up a quick batch of these keto almond flour biscuits. They're super easy to make.
For this recipe, we make 4 biscuits. Each serving is one biscuit and 1/2 cup of gravy.
The flour, salt, and butter get combined together first, until crumbly, then add the baking powder and one lightly beaten egg white. Drop the biscuits onto a baking sheet lined with parchment paper. The biscuits don't flatten and spread by themselves, so shape them how you want them to turn out.
Bake the biscuits at 350 degrees F for 15 minutes. I have to watch mine pretty closely after the 12 minute mark and take them out as soon as they turned golden, like in the picture below.
While the biscuit are baking, you can prepare the low-carb sausage gravy. See our full recipe for this gravy here.
Start by browning the ground sausage and breaking it up into small pieces. When the meat is cooked through, add the butter and almond flour to the pan and whisk it all together.
I've seen many variations of gravy recipes. Others include things like cream cheese or mascarpone cheese, almond milk, chicken broth, and xanthan gum. This recipe just uses butter, almond flour and heavy cream + water. I don't find that you need xanthan gum to make it the gravy creamy.
If you want to add cheese to make it even creamier I would use mascarpone over cream cheese because it's less flavorsome. But again, I really don't think you need any of those ingredients to make great gravy.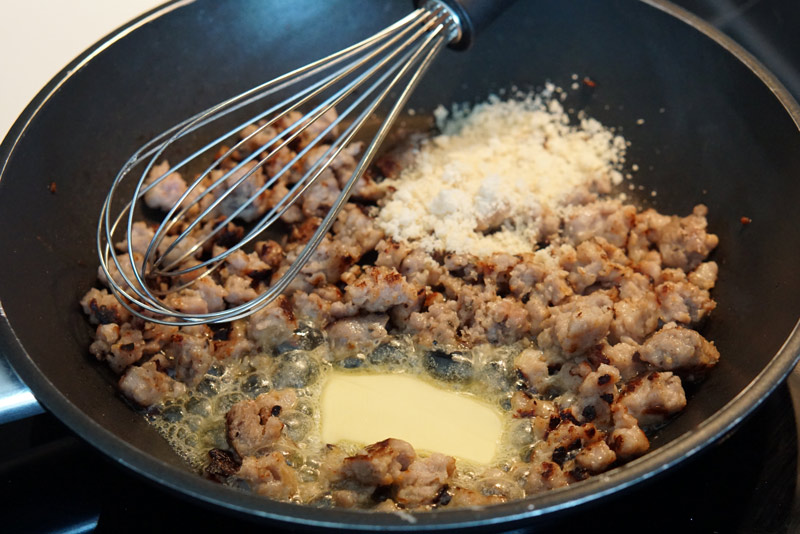 Add the heavy cream and water and whisk it all together. Season with salt and pepper, to taste. As the gravy bubbles, it will get thicker. The longer you cook it, the thicker it gets, so it's best to serve it as soon as the biscuits are ready.
We had a reader mention that their gravy never got thick. I believe this is most likely due to the type of almond flour you're using. The finer the flour, the better. If you're using almond meal, it might not thicken as much. If this bothers you, you could sprinkle a small amount (like 1/2 tsp) of coconut flour or another type of low-carb flour to the gravy to thicken it a bit more.
You could also add cream cheese, mascarpone, or 1/4 tsp of xantham gum to thicken the gravy, if you need to.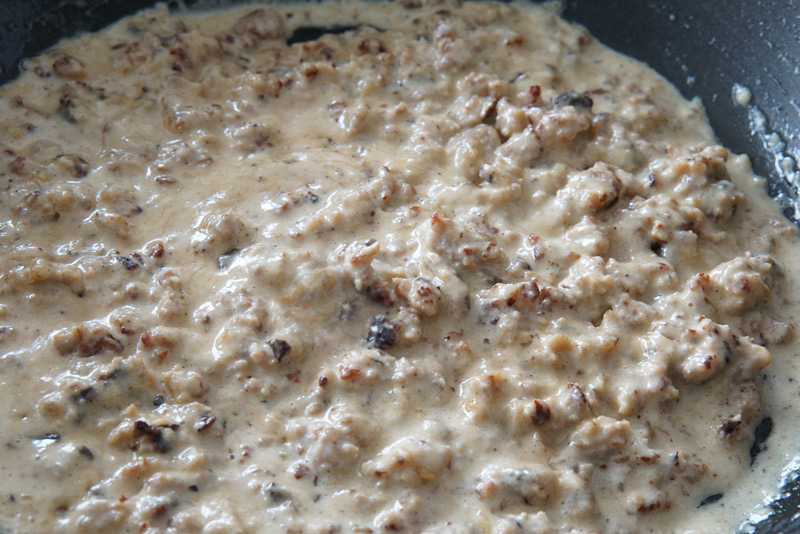 When the biscuits are done, take the from the oven. I like to split them open and put the gravy on them open faced, but you could serve them however you like!
What Does Keto Biscuits & Gravy Taste Like?
I won't pretend that this is an exact substitute for wheat flour biscuits and gravy, but they are a very good alternative when you're craving biscuits and gravy. The difference is all in the texture. The taste is the same.
Almond flour isn't as fine as wheat flour, so the texture of the biscuits and the gravy itself is more mealy. That said, they're still quite delicious.
When we're eating this breakfast, we easily forget that it's keto and just enjoy eating it.
How Many Carbs?
By replacing regular wheat flour with almond flour, you can remove most of the carbs from this dish. So if you thought you couldn't eat biscuits OR gravy on a keto diet, you absolutely can.
There are 4 net grams of carbs in one serving, which is one biscuit and about 1/4 cup of gravy.
The calories in the dish are rather high, mostly due to the sausage, butter, and heavy cream, but all of those ingredients are keto safe. If you want to cut down on the calories, you could add less sausage, use turkey sausage, or use half and half instead of full cream.
More Recipes from Delightfully Low Carb
Like this post? Be sure to save it on your Pinterest board for later! Click to follow our Pinterest boards so you can find all our recipes!
Keto Biscuits & Gravy
This keto biscuits and gravy recipe is so close to the original that you won't believe it's keto friendly.
Print
Rate
Ingredients
For the biscuits
2/3

cup

almond flour

1/2

tsp

baking powder

1/8

tsp

salt

2

tbsp

cold butter

cut into squares

1

large

egg white

lightly beaten
For the gravy
1/2

lb

ground sausage

1

tbsp

butter

1

tbsp

almond flour

3/4

cup

heavy cream

1/2

cup

water
Instructions
Pre-heat the oven to 350 degrees F. Prepare a baking sheet with parchment paper or silicon baking mat.

Combine

almond flour

, baking powder and salt in a large bowl.

Add the cubes of cold butter to the bowl and cut the butter into the flour using a pastry cutter or fork. Combine until the mixture is in gravel-sized pieces.

Whisk the egg white in a separate bowl, then add it to the flour mixture. Stir until fully combined. It will still be a bit lumpy.

Using your hands or a spoon, scoop out enough dough to form a biscuit. Place it on the baking sheet. Continue until you've formed all of the biscuits. Make sure to space them apart so they have room to grow while baking.

Bake for 12-15 minutes. Baking time will vary. When the biscuits are a nice golden color, they are ready.

While the biscuit are baking, prepare the gravy. Start by browning the ground sausage in a large

skillet

over medium-high heat. Break the sausage into small pieces as it browns. When the meat is cooked through, add the butter and

almond flour

to the pan and whisk it.

Add the heavy cream and water and whisk constantly until well combined. Season with salt and pepper, to taste. Turn the heat down to medium low and cook for 3-5 minutes, until thickened.

When the biscuits are done, take the from the oven. Cover them with gravy and serve.
Nutrition
Calories:
523
kcal
|
Carbohydrates:
6
g
|
Protein:
15
g
|
Fat:
50
g
|
Saturated Fat:
21
g
|
Cholesterol:
125
mg
|
Sodium:
602
mg
|
Potassium:
188
mg
|
Fiber:
2
g
|
Sugar:
1
g
|
Vitamin A:
965
IU
|
Vitamin C:
1
mg
|
Calcium:
111
mg
|
Iron:
1
mg
The information shown is an estimate provided by an online nutrition calculator. It should not be considered a substitute for a professional nutritionist's advice.
Read More About a Low-Carb Lifestyle
Pin it for later
Laura is an avid home cook and recipe creator. She shares her favorite low-carb recipes here that are both easy to make and full of flavor, so you don't even miss the carbs.