These Pan Fried Brussels Sprouts with Balsamic Glaze are not only super easy to make, they are incredibly delicious and make a great side dish for any main.
» Also try these garlic mushrooms and cauliflower and easy cauliflower potato salad side dishes.
The balsamic glaze gives these Brussels sprouts so much flavor, but typically the glaze is made with honey, which isn't ideal for a low-carb diet, so this recipe replaces the honey with brown sugar substitute.
If you're a fan of Brussels Sprouts, you already know that they don't even need a glaze to make them so delicious. They brown well in the pan with just olive oil, and the leaves quickly change from slightly bitter to super sweet. The glaze just gives it a little extra punch of flavor. We also love this keto orange sauce brussels sprouts recipe.
A serving of Brussels sprouts, equal to about 1 cup of raw sprouts, or about 7 large sprouts, contains roughly 8 net grams of carbs. If you're on a keto strict diet, that may be more than you want to consume in one dish, but it's practical for a low-carb diet.
» If you love brussels sprouts like we do, also try this recipe for Roasted Brussels Sprouts with Bacon.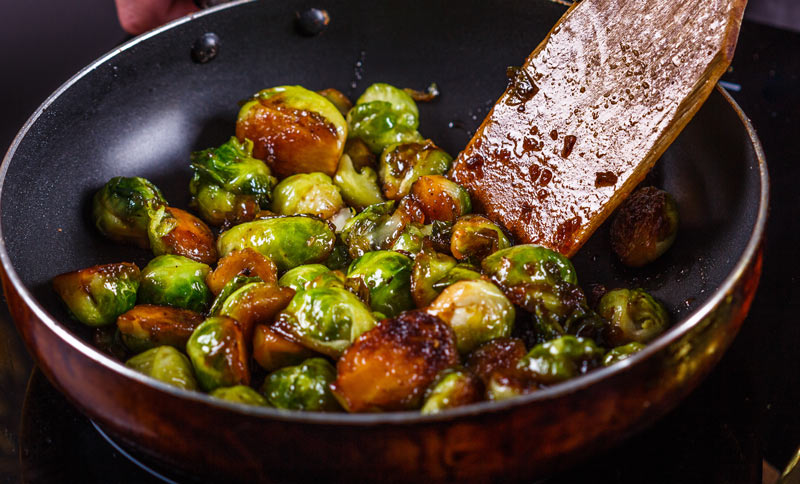 Ingredients You Need
Brussels sprouts – these are best fresh when they are in season, which is September to mid-February. Buy ones that are firm and brightly colored.
Extra Virgin Olive Oil – this isn't just for frying the veggies. It adds flavor to the sprouts. So make sure you use a good quality extra virgin olive oil
Balsamic vinegar – When choosing a balsamic vinegar, be sure to check the sugar content. Most balsamic vinegars have very little sugar, but you occasionally find one that does.
Brown sugar substitute – I use a brown sugar substitute from Wholesum Yum, which you can buy by clicking that link. There are many other brands you can get.
Salt and pepper – to taste
How to Make Pan Fried Brussels Sprouts With Balsamic Glaze
There are many different ways to cook Brussels sprouts. I love them to be roasted or sauteed on the stove top. Both ways give the sprouts a nice char and bring out the sweetness.
Start by washing and cutting the hard stems off the sprouts. Then half them or cut into quarters if you like smaller pieces. Larger sprouts are great for this recipe, but small works well too.
Heat olive oil in a pan over medium high heat. Once it's nice and hot, add the sprouts and let them cook without moving them for about 5 minutes. Then toss and cook for another 5 minutes The edges should start to brown during this time.
The secret to getting a good char on them in the pan is not to crowd them. They need space to brown. If you pile a bunch of them into the pan, they'll end up just steaming and not browning.
If you don't want to add the glaze, you can serve the Brussels Sprouts as soon as they've charred a little bit on the edges and are fork tender. They're delicious with just salt and pepper and a little olive oil drizzled on.
Add the Balsamic Glaze
I personally love the balsamic glaze on these brussels sprouts and it's hard to eat them any other way now.
Mix the ingredients for the balsamic glaze in a bowl, then pour it into the pan with the sprouts, right at the end of cooking.
Toss to coat. Don't leave the pan, as the sprouts can quickly burn with the sauce in the pan. Instead, let it cook for a minute, then toss to flip the sprouts. Repeat that process. Then serve as soon as the sprouts have browned sufficiently.
What to Serve With Brussels Sprouts
Brussels sprouts make a great side dish for just about any protein. You can serve them alongside a chicken cutlet, pork chops, with chicken wings, or even as a meal on their own.
Looking for more great keto and low carb side dishes? Check out this list of 20 keto friendly side dishes for the holidays.
This side dish goes well with a lot of different main dishes. Here are a few of our favorites:
Tips and Notes
You can substitute the brown sugar with sugar-free maple syrup or any sugar substitute you want to use. I like to use Lakanto Brown Monkfruit Sweetener.
Don't crowd the pan with sprouts, or they will steam instead of brown. They need space in order to get nicely charred.
Add some pancetta or bacon to the pan while you roast the Brussels for an extra burst of flavor.
These are also great with Parmesan cheese shaved over the top rather than the balsamic vinegar. There are so many ways to dress up Brussels Sprouts.
Can I Bake Them Instead?
You can bake these brussels sprouts in the oven, if you wish to do that instead of sauteing them on the stovetop. Preheat oven to 425°F and set an oven rack in the middle position. Line a baking sheet with heavy-duty aluminum foil.
Toss the Brussels sprouts with the oil, salt, and pepper, then place them on the baking sheet and roast, stirring once halfway through, until they're tender and golden brown, about 20 minutes.
Combine the balsamic and brown sugar together in a bowl. When the sprouts are done, drizzle the sauce over the top and toss to coat evenly.
Questions About Brussels Sprouts
When is the best time to buy brussels sprouts?
Brussels sprouts can be found in the store year round now, but they aren't always at their best, and the prices can be quite high in the off season. To find seasonal, local brussels sprouts that aren't bitter, they're best from September to February.
How to choose the best brussels sprouts
Look for bright green Brussels sprouts that are compact with intact outer leaves. They should be firm and not look wilted at all. Smaller sprouts are typically more tender and sweet.
Also make sure they are all roughly the same size so they will cook at the same rate. Store unused Brussels sprouts in a bag in the vegetable drawer. They should keep well for 7 to 10 days.
How do I get the perfect char on Brussels sprouts?
To get the perfect charred edges on Brussels sprouts, you need two things. One – you need a rather high heat. The higher the heat, the more char you will get. And two – don't crowd the pan. Too many brussels sprouts will lead to an inability to get a good char.
How many carbs are in this dish?
Brussels sprouts are fairly low in carbs, but the balsamic vinegar does have some sugar, so there will be a few carbs in this recipe. There are 8 grams of carbs in the brussels sprouts and 4 in the rest of the glaze, so that leaves you with 4 net grams of carbs per serving.
More Recipes from Delightfully Low Carb
Like this post? Be sure to save it on your Pinterest board for later! Click to follow our Pinterest boards so you can find all our recipes!
Pan-Fried Balsamic Glazed Brussels Sprouts
Pan-Fried Balsamic Glazed Brussels Sprouts are the perfect side dish for your protein. The flavor is incredible.
Print
Rate
Ingredients
1

pound

Brussels sprouts

1

tablespoon

olive oil

1/2

teaspoon

salt

2

tablespoons

balsamic vinegar

1

teaspoon

brown sugar substitute
Instructions
Rinse and cut the stems off the Brussels sprouts. Remove any extra leaves that fall off. Cut in half.

Heat olive oil in a large pan over medium-high heat. Add the Brussels sprouts. Saute for 5 minutes without touching the sprouts. Toss the sprouts in the pan and cook an additional 5 minutes.

Add the balsamic and sugar to a bowl and stir to combine. Add the mixture to the pan.

Toss to coat. Cook for 1 minute. Toss again. Repeat. Once the glaze has thickened, remove from heat.
Notes
You can substitute the brown sugar with sugar-free maple syrup or any sugar substitute you want to use.
Don't crowd the pan with sprouts, or they will steam instead of brown.
Nutrition
Calories:
87
kcal
|
Carbohydrates:
8
g
|
Protein:
4
g
|
Fat:
4
g
|
Saturated Fat:
1
g
|
Polyunsaturated Fat:
1
g
|
Monounsaturated Fat:
3
g
|
Sodium:
321
mg
|
Potassium:
450
mg
|
Fiber:
4
g
|
Sugar:
4
g
|
Vitamin A:
855
IU
|
Vitamin C:
96
mg
|
Calcium:
50
mg
|
Iron:
2
mg
The information shown is an estimate provided by an online nutrition calculator. It should not be considered a substitute for a professional nutritionist's advice.
Other Side Dish Recipes To Try
Click for Even More Side Dish Recipes
Pin it for later!
Laura is dedicated to a low-carb lifestyle after losing 52 pounds on the keto diet. As many of us do, she struggles with her weight and has found that one of the only diet lifestyles that allows her to maintain a healthy weight is a low-carb diet.  She shares her favorite low-carb recipes here that are both easy to make and full of flavor, so you don't even miss the carbs.