This Keto Blueberry Mug Cake is a delicious keto dessert or breakfast that you can make in just 1 minute in the microwave, with just a few low-carb ingredients.
» Check out these other great keto mug cakes! We love these cinnamon roll mug cakes and lemon mug cakes.
When you're craving something sweet and familiar, like a blueberry muffin, but you don't have time to mix up all the ingredients and wait for them to bake, this recipe will definitely hit the spot.
This blueberry mug cake is light and fluffy, without all the carbs and it's just one serving, so you won't have tempting left overs.
When you've been on a keto or low-carb diet for a while, it's easy to almost forget about your cravings for sweets, but once in a while it hits you and you just need to satisfy the craving so you can move on. This keto mug cake does that for me. Read up on how many carbs are in blueberries and whether they are keto-friendly or not.
It's super easy to make – taking just 1 minute in the microwave. In a total of just 6 minutes, you can have a beautiful dessert (I actually eat this for breakfast!) that's just one serving.
» Here are a few more keto desserts to try.
How Many Carbs Are in Keto Mug Cake?
If you're wondering about the carbs, you'll be happy to hear that this blueberry mug cake has just 4 net grams of carbs.
That means you can eat the whole thing and not feel guilty about it. You only have to save a little room in your daily carb count for this treat.
Ingredients in a Blueberry Mug Cake
With just a few ingredients and one minute in the microwave you can have a moist and delicious treat. One of the most important ingredients is the baking powder. That is what makes this fluffy cake rise.
Almond flour – use a fine, blanced almond flour
Baking powder
Allulose – this is my preferred sugar substitute because it doesn't have the cooling effect that erythritol has. You can use whatever your favorite sugar substitute is
Butter
Egg
Vanilla extract
Blueberries – you can use fresh or frozen blueberries
Heavy cream – you can substitute with half and half, if necessary
What You Need to Make Blueberry Mug Cake
To make a mug cake, you'll need a microwave-safe mug that's at least 10 oz. I use my regular coffee mug and it has plenty of space for the cake to expand. You can also use a 10 oz or larger ramekin.
Spray the inside of the mug with cooking spray or rub a little coconut oil inside the mug to prevent sticking.
What Flour to Use
You can use coconut flour instead of almond flour. If you choose to use coconut flour, use 1 tablespoon of coconut flour, instead of 3 tablespoons of almond flour. I think the batter can turn out just a bit dry with coconut flour, so you may need to add a teaspoon of water to the batter to smooth it out.
I personally prefer to use almond flour for this cake. Coconut flour works just as well but it adds a slight coconut flavor to the cake, which I don't like as much.
What Sugar Substitute to Use
I use allulose as a sugar substitute. You can use Swerve, monkfruit, Erythritol or Xylitol. It's really up to you. The reason I use allulose is because it's a no calorie no carb sweetener like erythritol, but it doesn't have the cooling effect. I get allulose directly through Wholesome Yum. I think you'll really like it, especially if you also don't like the cooling effect.
Learn more about low-carb sweeteners and conversion here
.
How to Make Blueberry Mug Cake
Mix the dry ingredients together in a bowl – that's the flour, baking powder, allulose (or other sugar substitute of your choice).
Then mix in the melted (but not hot) butter, egg, and vanilla. Stir it all up. It should be the consistency of regular cake batter. Not too dry, not too runny.
Carefully stir in the blueberries. Then pour the batter into your prepared mug.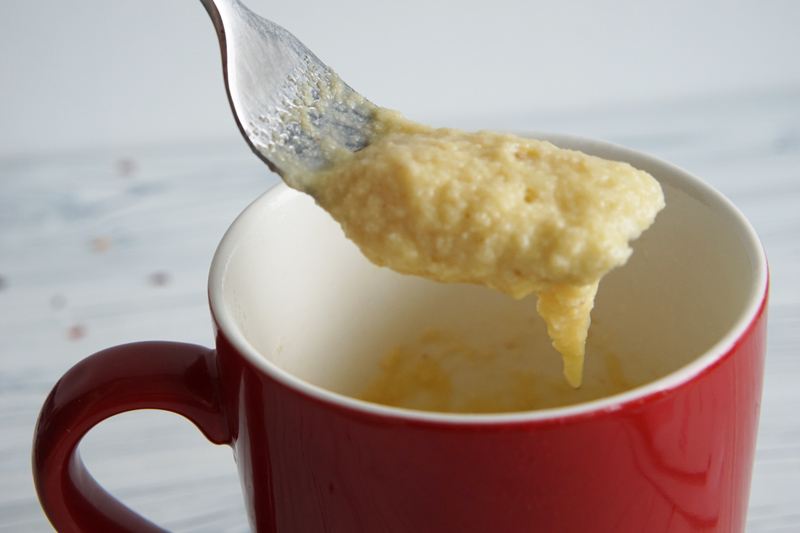 Put the mug in the microwave for 60 seconds. I use an 800-watt microwave and 60 seconds is perfect.
I've never had one come out not fully cooked, but if yours doesn't seem springy and fully cooked, or if it still has a wet top (you can still see raw batter), put it back in for another 10 seconds. A lower wattage microwave might cook the cake slower.
Alternately, a higher wattage microwave could over cook the mug cake, so if this cake overcooks in 60 seconds, you'll need to cut the time down or cook at a lower power next time.
While it's cooking, mix up the frosting. It's just melted butter, heavy cream and powdered sweetener (like allulose, erythritol or Swerve). Mix it up until smooth.
When the cake is done, you can add the frosting eat it directly from the mug, or turn it out onto a plate and drizzle with the frosting.
Have extra blueberries left over? Try these keto blueberry muffins or this keto 4th of July dessert.
If you are looking for other sweet options try our keto pumpkin bread with walnut crumble or keto pumpkin cookies.
Keto Mug Cake FAQs
If you've never made mug cake before, you might have a few questions. Here are some of the most frequently asked questions I receive about this recipe.
How do mug cakes work?
Mug cakes are so easy to make that it gets you wondering how it works, especially since it takes so long to bake a cake in the oven. The magic of a mug cake is in the leavening agents, which are the egg and baking powder.
When heated, the baking powder reacts with the other ingredients and forms bubbles that help the cake rise, while the rest of the ingredients cook.
What do I need to make a mug cake?
You'll need the ingredients (obviously), but then the only other things you need are a microwave and a microwave-safe mug. I just use my regular tea/coffee mugs. You could also use a ramekin. You just need a mug or ramekin that's larger than the cake ingredients, because it does rise a couple of inches in the mug.
What wattage do I cook this on?
I cook my mug cake at full power in a 900-watt microwave. If you have a more powerful microwave, you may need to cook the cake for 70 or 80 seconds instead of 90. Once you've cooked one mug cake, you'll know for next time.
In my opinion, it's better to under cook then over cook, so if this is your first mug cake cook it for 80 seconds on full power. If it's still wet in the middle, cook for 10 seconds longer. If it's a bit tough or dry, you can reduce by 10 seconds next time you make it.
Related Posts:
More Recipes from Delightfully Low Carb
Do you have a ketone meter?
Get results on your keto diet and manage your diabetes by testing for ketosis and blood sugar levels. This dual test kit for glucose & ketones gives you greater insight into your diet and what foods may adversely affect your results. Test, Don't Guess!
Like this post? Be sure to save it on your Pinterest board for later! Click to follow our Pinterest boards so you can find all our recipes!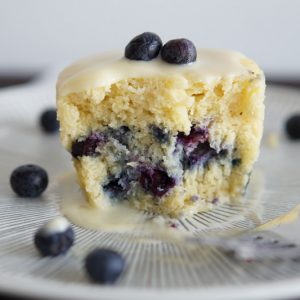 Keto Blueberry Mug Cake
This Keto Blueberry Mug Cake is a delicious keto dessert or breakfast that you can make in just 1 minute in the microwave.
Print
Rate
Ingredients
3

tablespoons

almond flour

1/2

teaspoon

baking powder

1/2

tablespoon

allulose or other sugar substitute

1

tablespoon

butter

melted

1

egg

1/4

teaspoon

vanilla extract

optional

15

blueberries
For the frosting
1

teaspoon

butter

melted

2

teaspoons

heavy cream

2

teaspoons

powdered allulose

or powdered erythritol
Instructions
Spray or rub the inside of a microwave-safe mug with cooking oil or butter.

Mix the almond flour, baking powder, and allulose in a small bowl. Stir in the butter, egg and vanilla extract until smooth. Add the blueberries and stir gently to incorporate.

Pour the batter into the mug.

Cook in the microwave on high for 60 seconds.

If serving with the frosting, mix the butter, cream and powdered allulose until smooth. If too thick to drizzle, add extra cream. Drizzle over the mug cake. Serve.
Notes
If you wish to use coconut flour instead of almond, use just 1 tbsp.
Other types of sugar substitute can be used, like Swerve or erythritol. Remember that erythritol is 70% less sweet than allulose.
Some microwaves are more or less powerful. I cook mine for 60 seconds on full power in an 800-watt microwave. You may need to adjust the cooking type based on the wattage of your microwave. The top should be spongy and not wet.
Nutrition
Calories:
369
kcal
|
Carbohydrates:
9
g
|
Protein:
10
g
|
Fat:
34
g
|
Saturated Fat:
14
g
|
Cholesterol:
219
mg
|
Sodium:
447
mg
|
Potassium:
61
mg
|
Fiber:
3
g
|
Sugar:
3
g
|
Vitamin A:
864
IU
|
Vitamin C:
2
mg
|
Calcium:
204
mg
|
Iron:
2
mg
The information shown is an estimate provided by an online nutrition calculator. It should not be considered a substitute for a professional nutritionist's advice.
These are easy ingredients to find online, if you don't have them in your regular grocery store. I usually buy them directly from the brand website, but you can also get them on Amazon. I just stock them in the kitchen regularly because I know I'll want them to make low-carb and keto foods.
Pin it for later!
Laura is an avid home cook and recipe creator. She shares her favorite low-carb recipes here that are both easy to make and full of flavor, so you don't even miss the carbs.