Crispy Air Fryer Cauliflower is so easy to make in the air fryer and it's a great healthy side dish or snack that makes cauliflower taste like a treat.
»You might try these other great air fryer recipes! Air fryer hamburger stuffed mushrooms and these air fryer shrimp.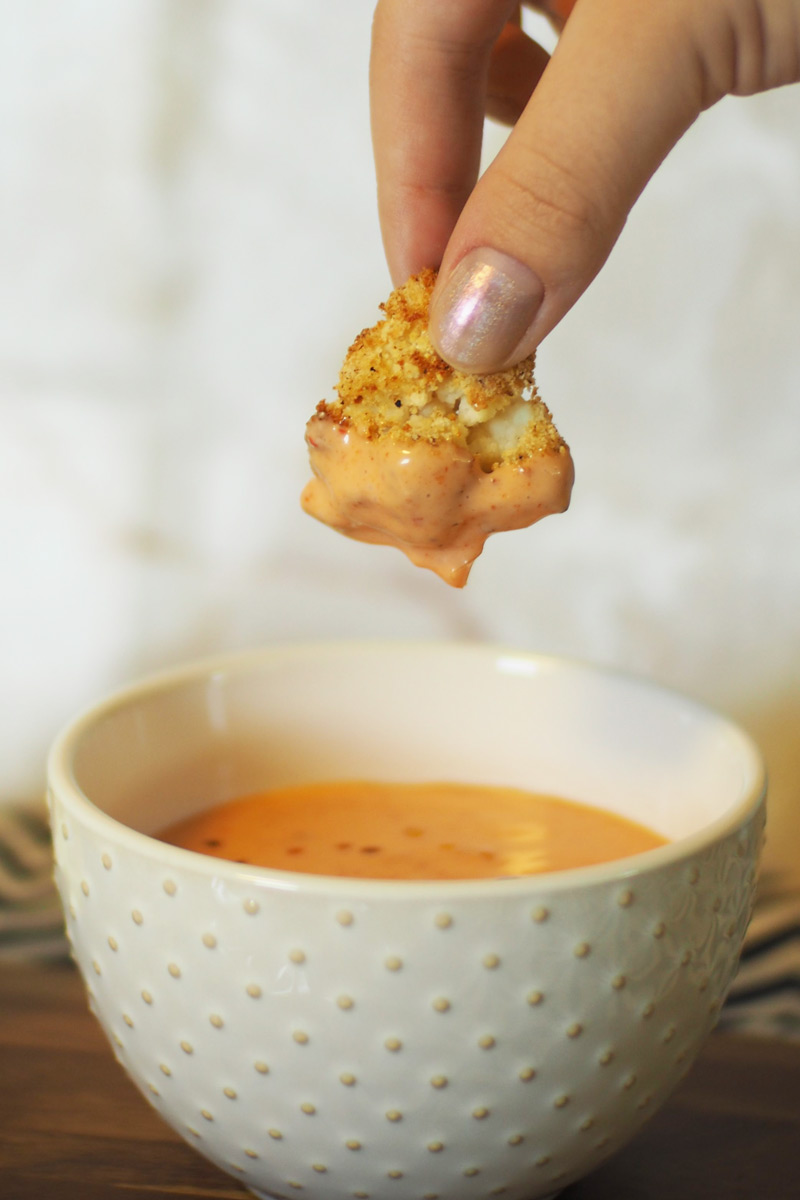 If you don't have an air fryer yet, you might want to consider getting one. I really didn't think it was necessary until I finally got one and realized how quickly it cooks things like cauliflower, without having to use the oven.
We make a lot of cauliflower around here (particularly cauliflower rice), not just because it's such a great low-carb / keto side dish, but because popping it in the air fryer to crisp it up is so fast and tasty.
I've always been a big fan of roasted cauliflower. It brings out the sweet flavor of the veggie and makes it almost addictive to eat, unlike it's raw self. Unless I'm dipping it in Ranch Dressing, I don't want to eat raw cauliflower. Air Fryer Cauliflower, on the other hand, is a recurring star on our dinner table.
You'll see why once you've made a batch of crispy air fryer cauliflower. It takes just 10 minutes to make this tasty side dish.
Air Fryer Cauliflower is the perfect low-carb and keto friendly snack because there's nothing to it but the vegetable itself. The air fryer allows you to achieve crispy roasted cauliflower without any oil or breading. You might also like these crunchy air fryer green beans.
A full serving of cauliflower has 3 net grams of carbs, all coming from the vegetable itself.
Ingredients in Crispy Cauliflower
The dry seasoning mix is what adds the flavor to this recipe. The great thing about this mix is that all of these spices are common ingredients that you probably have in your spice rack.
Cauliflower
Paprika
Salt & Pepper
Chili Powder
Onion Powder
Mustard Powder
How to Make Crispy Cauliflower in the Air Fryer
The most important first step is to cut the cauliflower into uniformly small pieces. Large pieces take longer to cook and aren't as fun to eat. Cut them into single florets or to bite-sized. And make them all the same size so they cook at the same speed.
Sprinkle as much of the seasoning as you want onto the cauliflower, making sure to coat both sides.
We use an easy spice blend seasoning. If you don't want to mix up a seasoning from scratch, you can use any seasoning salt or seasoning mix you have on hand. Lowry's seasoning salt is a great choice. We have a great recipe for homemade dry rub seasoning on our sister site. Here's the recipe. It has a small amount of brown sugar in it, for which you can use a brown sugar substitute, or leave it out.
Toss the cauliflower to make sure the seasoning makes it onto each piece.
Then add the cauliflower to the air fryer. Most air fryers can accommodate up to 3 cups. If yours can't, you might need to make it in two batches. Don't overcrowd the basket. You want the air to circulate to make each piece crispy. Set the air fryer to 400 degrees. The cauliflower will cook for 5 minutes, flip them over and cook for 5 more minutes. Its that easy!
Sauces for Air Fryer Cauliflower
If you're planning to serve this air fryer cauliflower as a snack or appetizer, you have to have a dipping sauce. That's what makes it so fun.
There are a lot of great choices, because cauliflower goes with just about anything. Try our homemade keto ranch dressing or keto BBQ sauce. Neither of these sauces have any added sugar, so they're very low in carbs.
In the picture above, we're dipping our cauliflower in a modified bang bang sauce, which is just a mix of mayonnaise, Sriracha, soy sauce, and rice wine vinegar.
Why is My Cauliflower Coming Out Soggy?
You may be overcrowding the basket. The air needs to have room to circulate around each piece of cauliflower. You might need to add a few more minutes of cooking time.
Can I Use Frozen Cauliflower?
Yes, and you don't even have to thaw it first. Just spray it with oil and shake on some seasoning and you are ready to go. Keep in mind that the cooking time will be slightly longer. Cook it for initial 10 minutes shaking the basket half way then add 3 minutes and check again.
Should I Pre-Heat My Air Fryer?
There is some debate or whether it is needed or not. Pre-heating is not going to make or break how your food comes out. But, if you think of it as a tiny oven then you may want to pre-heat since that is the first step in baking most things. If you want to pre-heat your air fryer before use set it to the appropriate cooking temperate and run for 3-5 minutes. Whether you pre-heat or not be aware that it may affect your total cooking time so keep an eye on your food.
More About Cauliflower
Cauliflower is a very versatile ingredient in keto and low-carb cooking. It has a very neutral flavor so it can take on other flavors easily. It is also full of antioxidant, nutrients and fiber to help you feel full longer. Cauliflower makes a great pizza crust that gets crispy just like a regular crust. You can mash or make cauliflower "potato" salad if you are missing potatoes, but our favorite ways to make it are this Mexican street style cauliflower or keto loaded cauliflower casserole.
Related Posts:
Like this post? Be sure to save it on your Pinterest board for later! Click to follow our Pinterest boards so you can find all our recipes!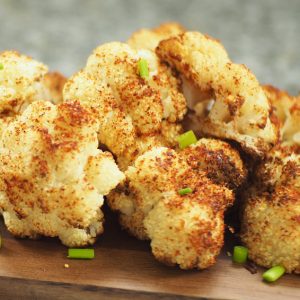 Crispy Air Fryer Cauliflower
Crispy Air Fryer Cauliflower is so easy to make in the air fryer and it's a great healthy side dish.
Print
Rate
Ingredients
1

cauliflower

cut into small pieces

1

teaspoon

paprika

1/2

teaspoon

salt

1/2

teaspoon

black pepper

1/4

teaspoon

mild chili powder

1/4

teaspoon

onion powder

1/2

teaspoon

mustard powder
Instructions
Cut the cauliflower into bite-sized pieces.

Sprinkle the dry rub onto the cauliflower and spread it out in the air fryer basket.

Set the air fryer to 400 degrees and cook for 5 minutes. Flip the pieces and cook an additional 5 minutes.
Notes
Cooking times vary from model to model.  Check cauliflower half way through and adjust time to your preference.
Nutrition
Calories:
27
kcal
|
Carbohydrates:
5
g
|
Protein:
2
g
|
Fat:
1
g
|
Saturated Fat:
1
g
|
Sodium:
224
mg
|
Potassium:
295
mg
|
Fiber:
2
g
|
Sugar:
2
g
|
Vitamin A:
214
IU
|
Vitamin C:
46
mg
|
Calcium:
21
mg
|
Iron:
1
mg
The information shown is an estimate provided by an online nutrition calculator. It should not be considered a substitute for a professional nutritionist's advice.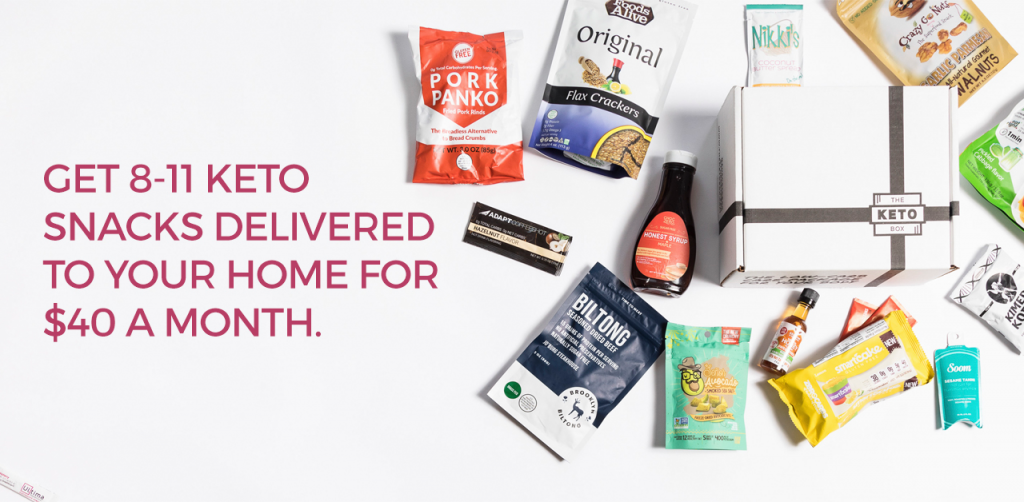 Pin it for later!
Laura is an avid home cook and recipe creator. She shares her favorite low-carb recipes here that are both easy to make and full of flavor, so you don't even miss the carbs.