This savory keto sausage gravy is creamy and packed with flavor. It's perfect for pouring over keto biscuits for a low-carb breakfast or serving over mashed cauliflower for a quick and delicious side dish.
» Here are more low-carb breakfast ideas and try this easy mushroom gravy.
Coming from someone who loves Keto Biscuits & Gravy for breakfast, this keto sausage gravy was an absolutely must for me. Making a breakfast like this, with creamy country sausage gravy is comforting and makes me satisfied with my diet.
You'll love how easy this is to make. It's pretty similar to the method I used to make sausage gravy with wheat flour. I've just substituted it with almond flour. The result is nearly the same. It's smooth and creamy, and packed with sausage flavor. Here are some other ways to substitute flour in gravy.
You can use whatever sausage you like for this recipe. I gravitate to Jimmy Dean sausage. I like the sage sausage, but hot and Italian are also good. Do take a look at the carbs in the sausage that you buy. Jimmy Dean has 1 grams of carbs per ounce.
Ingredients You Need
Ground sausage – Be sure to check the ingredients on the package to make sure there aren't additives or sugar added.
Butter – I use salted butter for added flavor
Almond flour – I use almond flour because that's what I have on hand. You can use any type of keto flour or low-carb flour substitute you have.
Heavy cream – Be sure to use full-fat cream to avoid dairy sugars. Half and half will not produce as creamy of a results, so I avoid using it.
Water
I've seen many variations of gravy recipes. Others include things like cream cheese or mascarpone cheese, almond milk, chicken broth, and xanthan gum. This recipe just uses butter, almond flour (or keto flour substitute), and heavy cream + water.
I don't find that you need xanthan gum to make the gravy creamy, and it can actually end up making it gluey or gummy. Stick with just flour and cream for the best result.
How to Make Keto Sausage Gravy
Start by browning the ground sausage and breaking it up into small pieces. When the meat is cooked through, add the butter and almond flour to the pan and whisk it all together.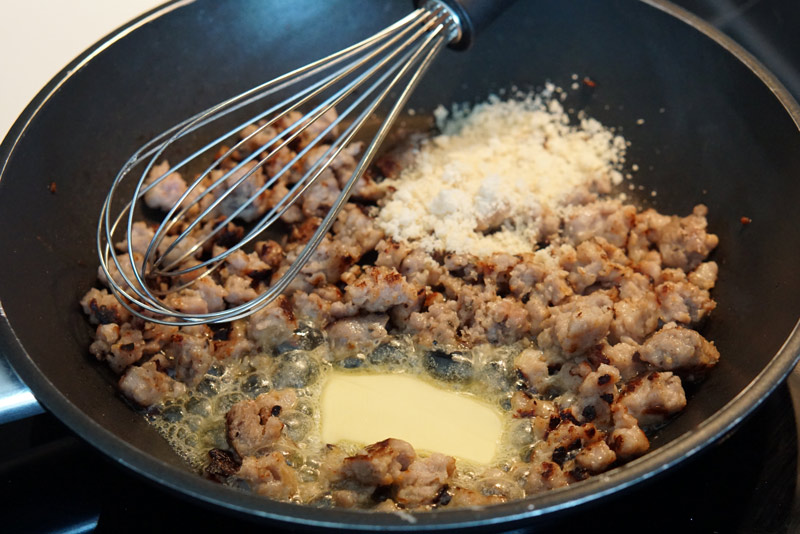 Add the heavy cream and water and whisk it all together. Season with salt and pepper, to taste. As the gravy bubbles, it will get thicker. The longer you cook it, the thicker it gets, so it's best to serve it as soon it's ready.
If you can't serve it right away, you may need to add additional water to it to thin it back down before serving.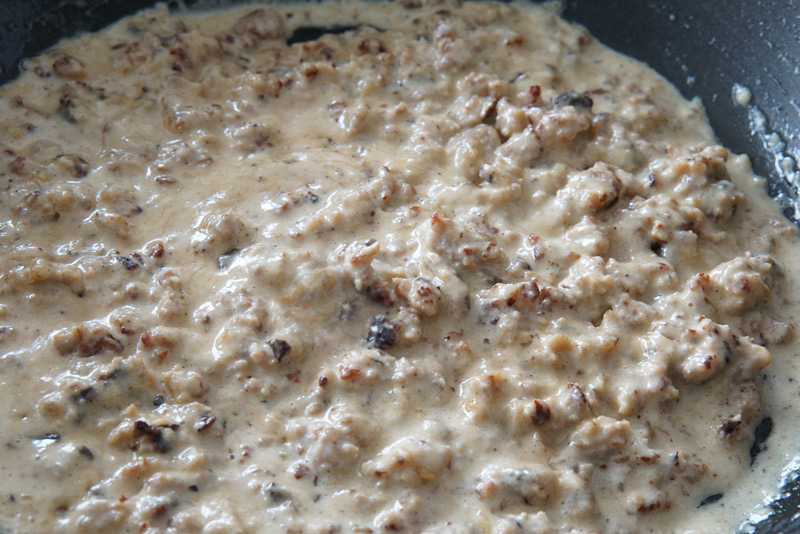 What Makes This Low Carb?
The ingredient in regular sausage gravy that makes it not low carb is the wheat flour. In the 1 1/2 tablespoons of wheat flour this recipe would need, there are 9 grams of carbs. In contrast, almond flour has less than 1 gram of carbs in that same amount of flour, so that really lowers the total amount in each serving.
Using almond milk also makes this a great gluten-free sausage gravy.
Another aspect that lowers the carb count in this gravy is the cream. Most gravy recipes use milk rather than cream. However, milk has about twice the number of carbs as cream.
Heavy Cream vs Whole Milk
You might be tempted to use whole milk in this recipe, but that will add quite a few more carbs to the gravy. You might not know it, but milk contains almost twice as many carbs per serving as heavy cream, in the form of sugars.
In one cup of milk there are 12 grams of carbs. In one cup of heavy cream, there are just 6.8 grams of carbs. This recipe calls for 3/4 of a cup. If you use milk, you will be adding an additional 9 grams of carbs to the gravy.
Keto Sausage Gravy FAQs
Why Isn't the Cream Thickening?
If you've added finely ground almond flour or a keto flour substitute and full fat cream, there is really no reason why it shouldn't be thickening. The cream alone will thicken if you let it bubble over medium heat for long enough.
The only time it might be too runny and won't thicken is if you've used half and half or whole milk instead of cream, or the type of flour you used isn't binding properly. If that's the case, you might not be able to fix it without additional ingredients, like xanthan gum or cornstarch slurry.
How many carbs are in keto sausage gravy?
This gravy has just 1 net grams of carbs per serving. If you serve it over a keto almond flour biscuit, that will add about 2 additional net grams of carbs.
What if the gravy doesn't thicken?
We had a reader mention that her gravy never got thick. I believe this is most likely due to the type of almond flour or cream you're using. The finer the flour, the better. If you're using almond meal, it might not thicken as much.
You also need to use full-fat cream in this recipe, which will thicken on its own without any almond flour. Adding the almond flour should just give it a little more body and texture.
If you're worried about thickening, pour the water in slowly, bit by bit, so you can decide how much to add. If it's not needed, don't add it.
Can I make coconut flour sausage gravy instead?
Yes, you can use coconut flour instead of almond flour in this recipe, if you wish. Keep in mind that there will be a strong coconut flavor to your gravy. You also don't need to use as much. It will take only 1 tsp of coconut flour to thicken the gravy.
How to Store Sausage Gravy
If you've not used all of the sausage gravy and want to store some of it for later, you can do so by putting it in an air tight container and storing it in the refrigerator. It will last for about 5 days when stored properly. You can then reheat it whenever you're ready to eat it again.
If you want to freeze the gravy, you can put the container in the freezer for about 2 months. I don't really recommend this though because the cream doesn't reheat well. It can become a little broken, so the smooth consistency isn't as nice after freezing.
More Recipes from Delightfully Low Carb
Pin it! If you liked this recipe please share it on Pinterest so others can find it too. We always appreciate your support! Follow us on Pinterest and Facebook to keep up on what we're cooking up.
Keto Sausage Gravy
This low-carb sausage gravy is great on keto biscuits, chaffles, or poured over mashed cauliflower.
Print
Rate
Ingredients
1/2

pound

ground sausage

1

tablespoon

butter

1 1/2

tablespoons

almond flour

3/4

cup

heavy cream

1/2

cup

water
Instructions
Start by browning the ground sausage in a large

skillet

over medium-high heat. Break the sausage into small pieces as it browns.

When the meat is cooked through, add the butter and almond flour to the pan and whisk it.

Add the heavy cream and whisk constantly until well combined. Season with salt and pepper, to taste. Turn the heat down to medium low, add the water as needed to thin out the gravy, and whisk. Simmer for 3-5 minutes, until thickened.
Nutrition
Calories:
364
kcal
|
Carbohydrates:
2
g
|
Protein:
10
g
|
Fat:
35
g
|
Saturated Fat:
17
g
|
Polyunsaturated Fat:
3
g
|
Monounsaturated Fat:
11
g
|
Trans Fat:
0.2
g
|
Cholesterol:
99
mg
|
Sodium:
397
mg
|
Potassium:
184
mg
|
Fiber:
0.3
g
|
Sugar:
1
g
|
Vitamin A:
786
IU
|
Vitamin C:
1
mg
|
Calcium:
42
mg
|
Iron:
1
mg
The information shown is an estimate provided by an online nutrition calculator. It should not be considered a substitute for a professional nutritionist's advice.
Read More About a Low-Carb Lifestyle
Like it? Save it on Pinterest!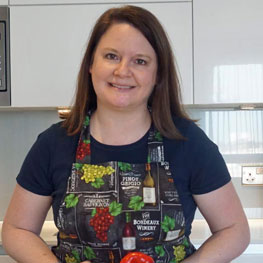 Laura is dedicated to a low-carb lifestyle after losing 52 pounds on the keto diet. As many of us do, she struggles with her weight and has found that one of the only diet lifestyles that allows her to maintain a healthy weight is a low-carb diet.  She shares her favorite low-carb recipes here that are both easy to make and full of flavor, so you don't even miss the carbs.