These Keto Butter Cookies are the easiest keto dessert to make with just 3 ingredients. They're baked and ready in just 15 minutes.
» Like cookies? Try these awesome Keto Chocolate Chip Cookies, Keto Magic Cookies or Keto Pumpkin Cookies.
When you're craving something sweet for dessert, these Keto Butter Cookies are a quick fix. They come together so quickly and they don't require any ingredients you don't already have on hand.
Using just almond flour, butter, and a sugar substitute, these are the easiest cookie you've ever made. They turn our very similar to shortbread cookies. And they do a great job satisfying that urge you have for dessert.
One of the biggest factors to staying satisfied on a keto diet, especially if you intend to stick with the diet long term, is not feeling deprived. Being able to eat a cookie once in a while goes a long way to alleviating the feeling of deprivation.
And you don't have to worry about these cookies eating into your carb count for the day. One cookie contains just 2 net gram of carbs.
Ingredients Needed for Keto Cookies
As I mentioned, there are only 3 necessary ingredients in these cookies. They are:
Almond flour – use blanched almond flour, which means the husk of the almond has been removed, thus it's a bit finer than unblanched.
Butter – make sure to take it out of the refrigerator so it can soften before using it
Powdered Allulose – You can use any type of powdered sugar substitute you like. I typically use allulose because I don't like the cooling affect from sweeteners like Erythritol.
Other recipes call for vanilla extract as well, but I don't think it's necessary. You can add it, if you like. You can also add keto chocolate chips, if you want, but these are extras, not required.
Substitutes
You'll probably be wondering if you can substitute other flours or sweeteners in this recipe. The answer is yes, but no. You *can* substitute some things, but it would require a drastically different recipe. For the best results, we recommend sticking to this recipe as written.
One substitution you should not make is coconut flour for the almond flour. Because coconut flour is way more absorbent and there isn't enough liquid in this recipe to make up for that difference.
The other substitution people often ask about is the sweetener. Erythritol is about 70% as sweet as sugar. If you replace it in this recipe, you'll need to adjust for sweetness, depending on what you use. If you do choose to use a different sweetener, it needs to one with a similar sweetness and volume.
Also note that this recipe uses powdered sweetener. You can use granulated, but it will be a bit crunchier. For the best texture, use powdered.
Learn more about low-carb sweeteners and conversion here
.
How to Make Keto Butter Cookies
These cookies are super easy to make. There are just five easy steps to follow:
Add all of the ingredients to a mixing bowl or food processor. The butter must be softened (no need to melt it), in order to incorporate it easily into the flour. Mix it together until a dough starts to form. I find it easiest to do this by hand. Just crumble the mixture in your hands until it comes together into a dough.
Form 10 little dough balls. If you want larger cookies, divide the dough accordingly.
With the back side of a fork, press down on the dough ball to flatten it. Rotate the cookie and press again to give it hashmarks across the top.
Place the cookies on a well-greased baking sheet, or line it with parchment paper or a silicon baking mat, to keep them from sticking to the pan.
Bake the cookies at 350° F for about 8 minutes, or until golden brown on top. Remove them from the oven and let them cool. They'll be fairly soft until they've cooled.
Additions
If you want to add chocolate to these cookies, you can melt some keto chocolate chips and drizzle the chocolate over the top of the baked cookies, or dip them in the melted chocolate once they've cooled.
Other great additions are:
Coconut flakes
Chopped pecans
Cocoa nibs
Vanilla extract, or a variation like lemon or caramel
Questions About Keto Butter Cookies
Should I use salted or unsalted butter?
It's okay to use whatever you have on hand. I like to use salted butter because it adds a little saltiness to the cookie, which I think is wonderful. It's really up to you.
Do these cookies flatten in the oven?
No, these cookies don't really flatten on their own, so if you want them to be flat you need to flatten out and shape the cookies before putting them in the oven.
How long are these cookies good for?
You can keep the cookies for up to a week and they'll still be very good. Just be sure to store them in an air tight container. If you keep them in the refrigerator, they can keep for up to 2 weeks.
Pin it! If you liked this recipe please share it on Pinterest so others can find it too. We always appreciate your support! Follow us on Pinterest and Facebook to keep up on what we're cooking up.
Keto Butter Cookies
These Keto Butter Cookies take under 15 minutes to make and are a great sugar-free dessert option.
Print
Rate
Ingredients
1

cup

blanched almond flour

1/4

cup

powdered allulose

3

tablespoons

butter

softened to room temperature
Instructions
Preheat the oven to 350° F. Grease a baking sheet or lined it with parchment paper or a silicon baking mat.

Combine all ingredients in a mixing bowl and mix together until it forms a dough. It can take a few minutes to completely combine the ingredients. It comes together easily when kneaded in your hands.

Form ten balls of dough and put them on the baking sheet with about 2 inches of space between. They won't spread as they cook.

With the backside of a form, flatten each dough ball, then rotate 90 degrees and flatten again.

Bake at 350° F for about 10 minutes or until the cookies are golden.

The cookies are very soft when they come out of the oven. They must cool completely before you remove them from the baking sheet, so they don't fall apart.
Nutrition
Calories:
93
kcal
|
Carbohydrates:
3
g
|
Protein:
2
g
|
Fat:
9
g
|
Saturated Fat:
3
g
|
Cholesterol:
9
mg
|
Sodium:
30
mg
|
Fiber:
1
g
|
Sugar:
1
g
|
Vitamin A:
105
IU
|
Calcium:
25
mg
|
Iron:
1
mg
The information shown is an estimate provided by an online nutrition calculator. It should not be considered a substitute for a professional nutritionist's advice.
Other Keto and Low-Carb Dessert Recipes To Try
Click for Even More Keto and Low-Carb Dessert Recipes
Read More About a Low-Carb Lifestyle
Pin it for later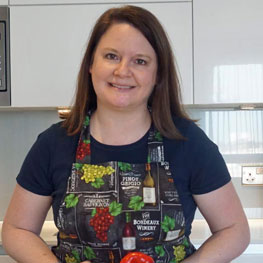 Laura is dedicated to a low-carb lifestyle after losing 52 pounds on the keto diet. As many of us do, she struggles with her weight and has found that one of the only diet lifestyles that allows her to maintain a healthy weight is a low-carb diet.  She shares her favorite low-carb recipes here that are both easy to make and full of flavor, so you don't even miss the carbs.