Grilled Shrimp is a great summer food. Grilling the shrimp gets it done quickly and with a nice rich, smoky flavor that we all love. That's why grilled shrimp deserves a special side dish that will compliment it well.
If you're preparing dinner, getting ready to throw some succulent shrimp on the BBQ, you should read on to see what to serve with grilled shrimp, so you can choose a great side dish.
» You might also like this Lemon Garlic Shrimp Dish or our favorite Bang Bang Shrimp.
We've collected these side dishes to make it easy to find a side that doesn't take away from the fresh, sweetness of the shrimp with too many overpowering flavors. Try a cucumber tomato salad or even a strawberry avocado salad. If it's a cold day, maybe opt for a broccoli cheese soup instead.
Other recipe compilations you might like:
Side Dishes to Serve with Grilled Shrimp
Grilled Radishes With Garlic & Dill Butter
These Grilled Radishes are the new hot thing this grilling season and a great side dish for your cookout. Toss aside the potatoes and get these little gems on the grill. You're going to love them!
Get the recipe
Keto Greek Salad
This Keto Greek Salad is made with cucumber, cherry tomatoes, red onion, bell pepper, kalamata olives, and crumbled feta cheese, with a tangy olive oil-based dressing. It's a light and refreshing salad that you can serve any time.
Get the recipe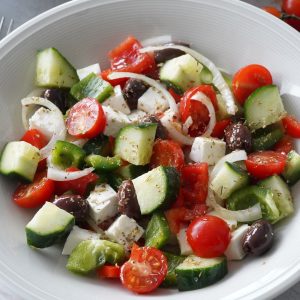 Keto Cole Slaw
This keto cole slaw is crunchy and tangy with fresh cabbage, green onions, and cilantro in a sugar-free dressing
Get the recipe
Keto Broccoli Cheese Soup
This Keto Broccoli Cheese Soup is full of delicious flavors, tender broccoli, and cheesy goodness, plus it doesn't exceed your carb counts.
Get the recipe
One-Pot Garlic Mushrooms & Cauliflower
This garlicy cauliflower and sautéed mushrooms have a delicious umami flavor that pairs well with just about any low-carb main dish.
Get the recipe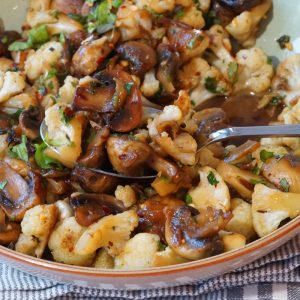 Pan-Fried Balsamic Glazed Brussels Sprouts
Pan-Fried Balsamic Glazed Brussels Sprouts are the perfect side dish for your protein. The flavor is incredible.
Get the recipe
Cauliflower Rice
This easy cauliflower rice is so versatile. You can use it as a replacement for regular rice in any dish.
Get the recipe
Savory Butternut Squash Noodles
These butternut squash noodles can fill in for pasta in your favorite dish.
Get the recipe
Strawberry Spinach Salad
This bright and tangy salad is perfect as a side salad paired with chicken or sliced steak.
Get the recipe
Like this post? Be sure to save it on your Pinterest board for later! Click to follow our Pinterest boards so you can find all our recipes!
Pin it for later
Laura is an avid home cook and recipe creator. She shares her favorite low-carb recipes here that are both easy to make and full of flavor, so you don't even miss the carbs.