This Sugar-Free Condensed Milk will help you cook your favorite desserts without the added sugar found in sweetened condensed milk.
» You might like this Easy Apple Crisp (Sugar Free).
When the holidays roll around, you start seeing more recipes that use sweetened condensed milk, like pies and desserts, caramel sauce and dulce de leche. But on a low-carb diet, you can't use it. That's where this sugar-free version comes in handy.
I'll tell you, the reason I love this recipe so much is that I can still make my favorite Vietnamese coffee, which is made with a thick layer of sweetened condensed milk and strongly brewed Vietnamese coffee poured over the top.
I fell in love with the drink a few years ago while touring Vietnam, and I really lamented it when I couldn't make them any more once starting my keto lifestyle. Happily, I can now enjoy them again. Here's a video of how to make Vietnamese coffee (watch it at 2x speed).
It's also used in Thai Iced Tea, which I'm a huge fan of as well. Now it's possible to make it without all the sugar.
I saw a sugar-free condensed milk in the market one time, but then I could never find it again, so I had to make my own.
It's still just as sweet and can be used the same exact way you would use the sweetened version, it just uses a sugar substitute.
It's made with heavy cream so it's keto-friendly and tastes sweet and creamy.
Don't confuse this with unsweetened condensed milk, which is something very different. This version is sweet, it's just not sweetened with sugar.
How to Make Sugar-Free Condensed Milk
Here's the best part. This recipe only has 3 ingredients! You'll need heavy cream, a sugar substitute (allulose is best), and butter.
For the sugar substitute, you need to use a powdered version that dissolves well, like allulose. I've found that powdered erythritol doesn't dissolve as well and makes the condensed milk a bit grainy or crystalized. To avoid this, use allulose.
A granulated version works in a pinch, but it won't be as smooth and creamy – it'll still have little flecks of granules that are undissolved.
Start by heating the butter in a saucepan over medium heat.
When melted, add the cream and sugar. Whisk it until it's smooth.
Simmer the mixture over medium low heat for about 35 minutes, stirring occasionally. It will thicken as it simmers.
When it's done, it can still be poured, but will stick to the spoon.
If after 35 minutes, the mixture is still too thin for your liking, continue to cook it until it has reduced enough.
I've found that when you cook it past about 45 minutes, it starts to caramelize or crystalize again. It'll appear creamy, but when you store it, it'll be too thick. So do keep any eye on it and don't overcook.
Tips for Making Smooth and Creamy Sugar-Free Condensed Milk
The best tip I can give it to keep a close eye on the mixture as it reduces. It's easy to overcook or scorch it if the heat is up too high.
You don't want the mixture to boil, you just want it to simmer on a low heat. However, too low and it will take much longer than 35 minutes to cook it down. So you need to strike the right balance for your own stove. Then come back to it every few minutes to stir it and make sure the bottom isn't browning.
What Sugar Substitute to Use
I use allulose as a sugar substitute. You can use Swerve, monkfruit, Erythritol or Xylitol. It's really up to you. The reason I use allulose is because it's a no calorie no carb sweetener like erythritol, but it doesn't have the cooling effect. I get allulose directly through Wholesome Yum. I think you'll really like it, especially if you also don't like the cooling effect.
Learn more about low-carb sweeteners and conversion here
.
It's important to note that allulose and Swerve are a 1:1 substitute for sugar. They have the same level of sweetness. However, erythritol is about 70% as sweet as sugar, so you will need to use 30% more erythritol for the same sweetness in this recipe.
Since all sugar substitutes can be a bit different in sweetness level, it's always best to taste the mixture and increase the sweetness to your liking. You might think it's sweet enough with just 1/2 cup of powdered sweetener. If not, just add more until you're happy.
Other Recipes to Try
Pin it! If you liked this recipe please share it on Pinterest so others can find it too. We always appreciate your support! Follow us on Pinterest and Facebook to keep up on what we're cooking up.
Sugar-Free Condensed Milk
This Sugar-Free Condensed Milk will help you cook your favorite desserts without the added sugar.
Print
Rate
Ingredients
3

tbsp

unsalted butter

16

oz

heavy cream

1/2

cup

powdered allulose
Instructions
Melt the butter in a saucepan over medium heat. Add the heavy cream and sugar. Whisk until smooth. Simmer over medium low heat for about 35 minutes, whisking occasionally. It's done when it's reduced by half and is thickened, but still pourable.
Notes
Be careful not to allow the mixture to brown. Lower the heat if necessary.
If using powdered erythritol, increase the amount of sweetener to 2/3 cup.
Nutrition
Calories:
156
kcal
|
Carbohydrates:
1
g
|
Protein:
1
g
|
Fat:
17
g
|
Saturated Fat:
11
g
|
Cholesterol:
59
mg
|
Sodium:
15
mg
|
Potassium:
28
mg
|
Sugar:
1
g
|
Vitamin A:
643
IU
|
Vitamin C:
1
mg
|
Calcium:
25
mg
The information shown is an estimate provided by an online nutrition calculator. It should not be considered a substitute for a professional nutritionist's advice.
Pin it for later!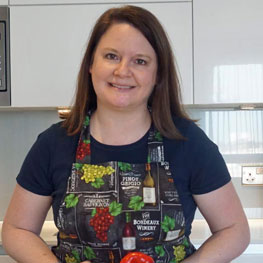 Laura is dedicated to a low-carb lifestyle after losing 52 pounds on the keto diet. As many of us do, she struggles with her weight and has found that one of the only diet lifestyles that allows her to maintain a healthy weight is a low-carb diet.  She shares her favorite low-carb recipes here that are both easy to make and full of flavor, so you don't even miss the carbs.