These Avocado Scrambled Eggs are the perfect breakfast for a keto or low-carb diet when you're eating mostly protein and healthy fats. Dress up your scrambled eggs with a bit of avocado to make it even heathier and packed with healthy fats.
» You might also like these Keto Breakfast Bowls and these Keto/Low Carb Breakfast Ideas.
If you're looking for ways to make breakfast healthier and more sustaining for a long day, a great way to do it is to add avocado to your scrambled eggs. Not only is this dish low-carb, it's also packed with great nutrition.
I love eggs in just about any form, but plain scrambled eggs can get really boring. I like to add bacon or ham and cheese, but that too can get old after a while. Avocado adds variety and, maybe not so surprisingly, the two go together really well.
If you're on a keto or low-carb diet, this is the perfect breakfast. You can add cheese, too, if you're not dairy free. It's simple and tasty, just like breakfast should be.
Ingredients in Avocado Scrambled Eggs
While healthy and filling these scrambled eggs are made even better because they are made with only a handful of ingredients. Here's a list of what you will need.
Eggs – read about eating eggs on keto
Unsalted Butter
Avocado
Salt & Pepper
Cheddar Cheese – optional
How to Make Avocado Scrambled Eggs
The key to making perfect scrambled eggs is not just one simple thing. It's a combination of things. If you put them all together, you've got fluffy and light eggs.
Start by adding 2 eggs to a bowl and whisking them until the whites and yolks have been fully combined. Chop the avocado into small chunks (not too small or they'll fall apart in the eggs.
You'll need a non-stick pan and a spatula. I like to use a silicon spatula because the eggs don't stick to it as you move them around the pan. Heat the pan over medium-low heat. The most important aspect of making great eggs is not to overheat the pan.
Add a pat of butter and allow it to slowly melt in the pan. If it sizzles, the pan is too hot. Pour the eggs into the pan and let them sit for at least 30 seconds. They also should not sizzle. If they do, take the pan off the heat and turn the heat down before re-adding it.
Now lift the egg from the bottom with the spatula and fold it over a few times. You can break it up with the spatula a bit, but don't overwork it.
Then let it sit for another 10 seconds. Add the avocado (and cheese, if you want) and fold again. Cook for another 10 seconds.
Remove from the heat and let it rest for a few seconds. Add flake salt and a bit of ground pepper, if you like. Serve it while it's hot.
Shouldn't I Add Milk?
I personally don't like adding milk or cream to my eggs. Some people swear by it, saying the milk makes them extra fluffy, but I disagree with that. I think milk waters it down and there is never any visible proof that the eggs are fluffier. Also, milk contains carbs that you might not want to ingest if you're on a low-carb or, specifically, keto diet.
The real key to fluffy eggs is not to cook them on too high heat and not to mess around with them in the pan. Folding is so much better than crumbling the eggs. The more you crumble, the less fluffy they will be.
When to Add the Avocado
Avocado has a creamy, silky taste and a texture that blends perfectly with scrambled eggs. But the taste changes as it heats up. It's my preference to add the avocado right at the end of cooking, so it only heats up for about 10 seconds before being removed from the pan.
It's just enough to soften the avocado and bring it to temperature so it's no longer cold. Both the egg and avocado benefit from a little salt right after cooking, as well.
Questions About Avocado Scrambled Eggs
Can I Eat Avocados on a Keto Diet?
Yes. Avocados are low in carbs with 8.5 grabs of carbs and high in fiber. They are also high in healthy fasts making them a great addition to a keto diet.
Are Eggs Keto?
Yes. One large egg has less than 1 gram of carbs and are high in protein. Eggs are both versatile and healthy making them a great way to start your day and follow a keto diet. Read more about it here.
What to Eat with Avocado Scrambled Eggs
I used to love to have bread with my scramble eggs. While regular bread is off limits now there are some great keto bread substitutes that have great texture and taste.
Cloud Bread is light and fluffy and Wonder Bread Chaffles have the texture of regular bread. Keto Bagels use fathead dough and turnout chewy and break like. You might also like to try these homemade tortillas or biscuits.
More Recipes from Delightfully Low Carb
Additions to Dress It Up
If you're looking for more ways to dress up this breakfast to give it a bit more kick, there are all kinds of things you can add. Here are a few of my favorites:
Bacon crumbles
Cubed ham
Cholula hot sauce
Smoked salmon
Pico de gallo
Like this recipe? Be sure to save it on your Pinterest board for later! Click to follow our Pinterest boards so you can find all our recipes!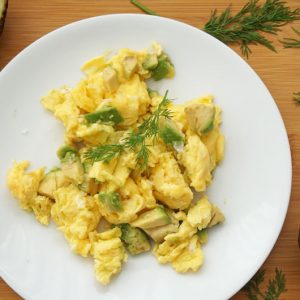 Avocado Scrambled Eggs
Adding avocado to scrambled eggs gives them some variety and adds great healthy fats.
Print
Rate
Ingredients
2

large

eggs

1

tablespoon

unsalted butter

1/2

avocado

Flake Salt

to taste

Ground black pepper

to taste

shredded cheddar cheese

optional
Instructions
Crack two eggs in a bowl and whisk until combined.

Heat a non-stick skillet over medium-low heat. Add the butter and melt slowly. Once melted, add the egg and allow it to sit in the pan for at least 20 seconds.

Using a spatula, lift under the egg and fold it over twice. Allow to cook for 10 seconds. Add the avocado and cheese (if adding) and fold again. Cook for 10 seconds.

Remove from heat and rest for a few seconds. Add flake salt and ground pepper. Serve while hot.
Nutrition
Calories:
423
kcal
|
Carbohydrates:
9
g
|
Protein:
16
g
|
Fat:
37
g
|
Saturated Fat:
13
g
|
Cholesterol:
452
mg
|
Sodium:
170
mg
|
Potassium:
644
mg
|
Fiber:
7
g
|
Sugar:
1
g
|
Vitamin A:
1109
IU
|
Vitamin C:
10
mg
|
Calcium:
76
mg
|
Iron:
3
mg
The information shown is an estimate provided by an online nutrition calculator. It should not be considered a substitute for a professional nutritionist's advice.
Other Breakfast Recipes To Try
Click for Even More Breakfast Recipes
Like this? Pin it for later!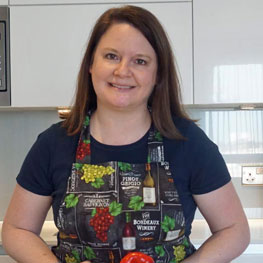 Laura is dedicated to a low-carb lifestyle after losing 52 pounds on the keto diet. As many of us do, she struggles with her weight and has found that one of the only diet lifestyles that allows her to maintain a healthy weight is a low-carb diet.  She shares her favorite low-carb recipes here that are both easy to make and full of flavor, so you don't even miss the carbs.