Keto Chaffles are an internet sensation for a reason. They make sandwiches possible on a keto diet and they're super easy to make.
So what is a chaffle? Cheese + egg = chaffle
If you're missing bread for sandwiches, these Keto Chaffles can help you out. After Keto Cloud Bread and Wonder Bread Chaffles, these are the next best thing to substitute bread so you can have a breakfast sandwich or a quick lunch grab and go.
I actually have no idea where Chaffles originated. I tried to find a source, but there are now just too many recipes for this internet sensation to figure out who originally made it. They became super popular in 2019.
The most misunderstood thing about chaffles is that they aren't just a substitute for regular waffles. They are, in fact, mostly made of cheese. So they also make a great "bread" for all types of sandwiches.
You can make savory or sweet chaffles and we'll give you a few options below, so you can get creative and test these out for all types of scenarios.
As I mentioned before, the most basic version is made with just cheese and egg. You can use any type of cheese – mozzarella tends to work the best, but you can use cheddar, Monterrey Jack, gouda, etc.
With just cheese and egg, it's good, but I think it's better with a little bit of added almond flour, which gives more texture and firmness. I also prefer to add some shredded cheese to the waffle iron before adding the batter, which helps get a crispier crunch on the waffle. The basic version can turn out a bit too soggy for me.
Here's a short video of the process of making an extra crispy Chaffle.
What You Need to Make Chaffles
You will need shredded cheese, egg, and almond flour to make our version of Chaffles. There are dozens of additions, which you can decide on and add if you want.
You will also need a waffle maker. There's a specific waffle maker that became the top choice for making these. It's called a Dash Mini Maker. It makes one 4″ waffle. You don't need this specific one, but it is super convenient to use, and just the right size for sandwiches!
How to Make Chaffles
It's very simple to make these chaffles, but they turn out better with a few tips, so read on to get the full scoop.
The recipe starts with one egg, lightly beaten, mixed with 1/2 cup shredded mozzarella. This will give you a waffle that is light and airy, with a fairly soft exterior.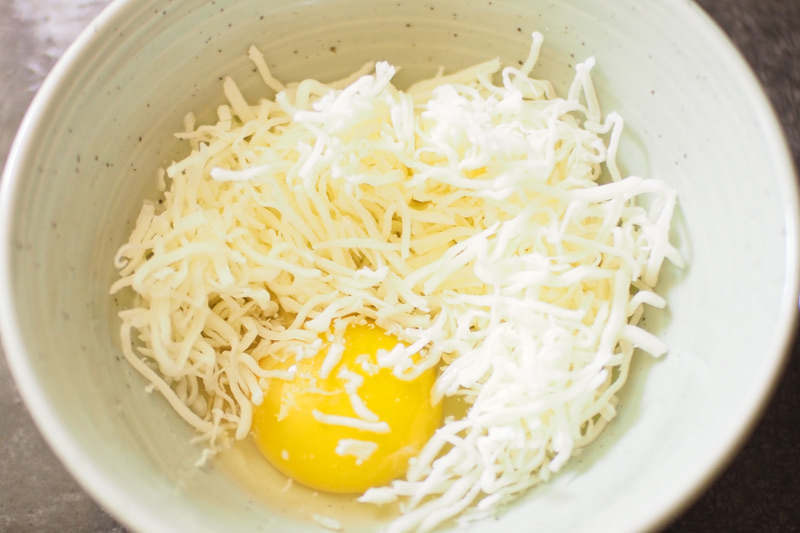 If you're using a dash, you would use 1/2 of the batter at a time to make 2 chaffles. It's one serving, and it's perfect for a sandwich.
If you're using a regular Belgium waffle maker, you'll likely need to use the entire batter mixture for 1 waffle, which is 1 serving. So to make a sandwich, you'll have to cut the waffle in half.
For the best texture use finely shredded cheese. The larger shredded mozzarella doesn't melt as easily, so it can lead to a chunkier chaffle.
You can top your chaffle with keto maple syrup. You might think it's weird to add syrup to cheese waffles, but believe me, it's amazing.
Less Eggy
We recommend adding 1 tablespoon of almond flour and 1/4 tsp baking powder. The almond flour isn't necessary, but it gives the chaffle more texture and less of an eggy flavor, which some people don't like.
You can use coconut flour instead of almond flour, but you only need to add 1 tsp coconut flour, because it soaks up more liquid. I personally don't like using coconut flour because it tastes strange adding coconut flavor to cheese and egg.
More Crunchy
If you like your waffles to be more crunchy on the exterior than soft, you can sprinkle some shredded cheese on the waffle iron before you add the batter, and again on top of the batter. This makes a crisp cheese layer on both sides, so the waffle is super crunchy.
You don't want to add cheese if you're making sweet chaffles. It's a bit strange to have such a cheesy exterior when you're pouring syrup on your chaffles.
Another way to make the chaffles more crunchy is to make sure the waffle iron is very hot before adding the batter, and cook them longer. If you take them out too soon, they will be soft on the exterior. Leaving them in longer than you might think you need to will crisp them more.
Variations to Try
There are many different add-ins and slight variations you can try. My preferred way to eat chaffles is as a breakfast sandwich, just add a fried egg and bacon.
Cinnamon Sugar Chaffles
To make sweet chaffles, add 1/2 tsp sugar substitute, 1/2 tsp vanilla, and 1/4 tsp cinnamon to the batter.
You can serve these with extra cinnamon/sugar substitute sprinkled on top, or with sugar-free syrup or chocolate glaze.
Jalapeno Bacon Chaffles
Add 1/2 tbsp chopped jalapeno pepper and 1 crumbled piece of bacon to the batter.
This chaffle can be served with sugar-free maple syrup (it's pretty awesome!), or with more melted cheese on top. We also like to add cream cheese to the top, like a schmear on a bagel.
Everything Bagel Chaffles
Probably our favorite chaffle to make is an Everything Bagel Chaffle. We add 1 tbsp Everything Bagel seasoning to the mixture and it gives it a ton of flavor. These are great for sandwiches.
More Recipes from Delightfully Low Carb
Like this post? Be sure to save it on your Pinterest board for later! Click to follow our Pinterest boards so you can find all our recipes!
Basic Keto Chaffle Recipe
Keto Chaffles are an internet sensation for a reason. They make sandwiches possible on a keto diet and they're super easy to make.
Print
Rate
Ingredients
1

egg

1/2

cup

mozzarella cheese, grated
Instructions
Mix egg and mozzarella cheese together until well combined.

Add half of the batter to the chaffle iron and cook.
Nutrition
Calories:
115
kcal
|
Carbohydrates:
1
g
|
Protein:
9
g
|
Fat:
8
g
|
Saturated Fat:
4
g
|
Cholesterol:
104
mg
|
Sodium:
207
mg
|
Potassium:
52
mg
|
Sugar:
1
g
|
Vitamin A:
308
IU
|
Calcium:
154
mg
|
Iron:
1
mg
The information shown is an estimate provided by an online nutrition calculator. It should not be considered a substitute for a professional nutritionist's advice.
Pin it for later!
Laura is an avid home cook and recipe creator. She shares her favorite low-carb recipes here that are both easy to make and full of flavor, so you don't even miss the carbs.