These keto English Muffins are the perfect way to enjoy a breakfast sandwich. The batter is microwaved for just 90 seconds and makes 4 slices each with just 1 net gram of carbs.
» Also try these keto wonder bread chaffles, keto bagels and 17 Keto/Low Carb Breakfast Ideas.
I sometimes crave a breakfast sandwich with egg, sausage, and cheese, but without the carbs from the English muffin. This keto muffin recipe solves that problem.
Now you can make a muffin that holds up as a breakfast sandwich, and is done in just a couple of minutes. It's the perfect solution if you don't want to eat carbs from bread, but you still want to enjoy a breakfast sandwich.
I wouldn't say these keto muffins have the same texture as an English muffin, but they are as close a substitute as I've ever had, and I've tried many different types of keto bread. Serve them alongside this low-carb butternut squash & sausage frittata.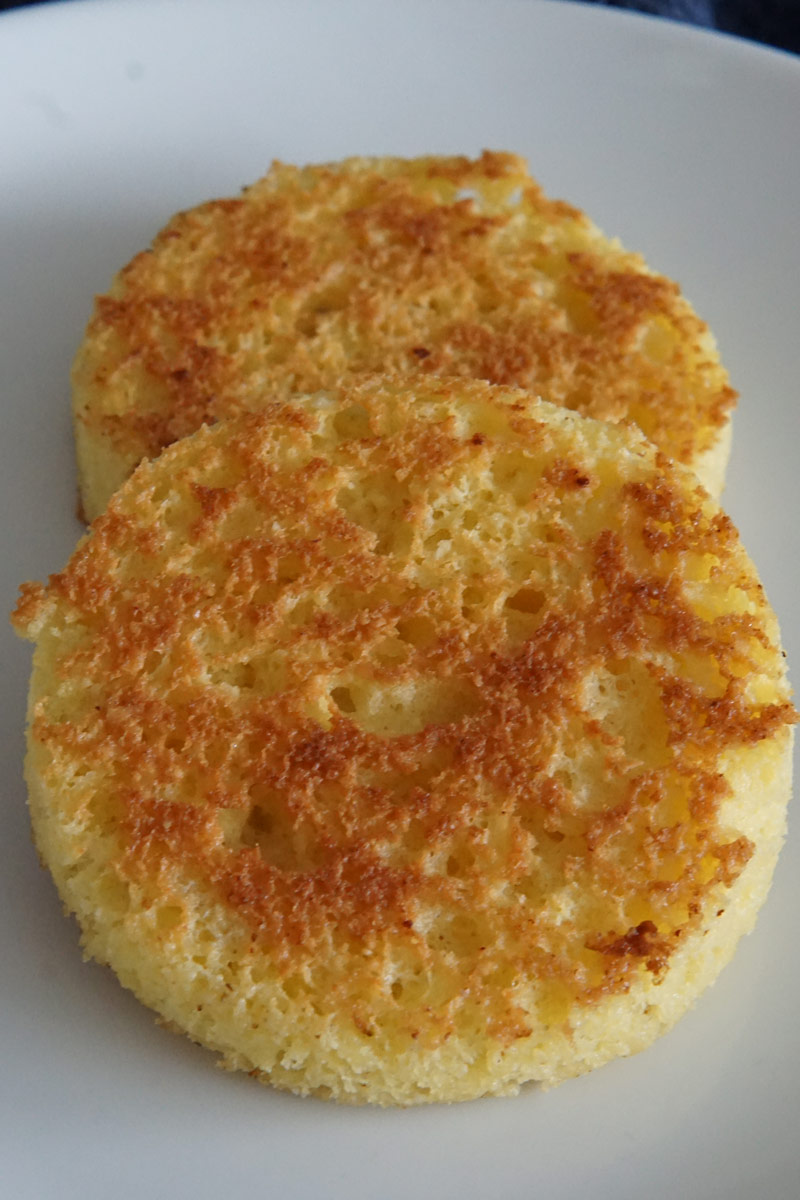 Ingredients in Keto English Muffins
For these muffins, you need the usual low-carb ingredients.
Almond Flour
Coconut Flour
Baking Powder
Butter
Egg
Salt
You do need to use both almond flour and coconut flour to make these sturdy muffins. If you just use almond flour, they won't hold us as well and are prone to crumbling.
You also do need the egg in this recipe. It can't be left out, because it acts as the binder for the other ingredients, which makes them fluffy, but firm.
About Almond Flour
These biscuits will turn out best if you use blanched almonds. Blanched just means that the skin has been removed from the almond before it was ground up. Read more about the difference here. The outcome is a lighter, prettier biscuit, and less mealy.
I use almond flour from Wholesome Yum. It can be ordered directly through this link. It's the perfect consistency for almond flour and is specially designed for keto cooking. It's blanched finely ground almond flour has the best texture for keto baking.
I weigh out the almond flour and stick it in the fridge 20 minutes before I plan to use it, so it's nice and cold.
What Dish to Make This In
I use an 8.5 oz ramekin that is 4″ in diameter and 2.5″ tall. Like these. I would suggest using a ramekin that is no smaller than 8 oz, or the batter might bubble over the top when cooking.
You can also use a mug or a small baking dish, but you don't want it to be too wide. I find that 4″ diameter is perfect for a breakfast sandwich, and it will yield 4 slices.
If you use a wider dish, you may not be able to get 4 slices out of the one muffin.
How to Make Keto English Muffins
Melt the butter. You don't want it to be super hot, just melted.
Combine the almond flour, coconut flour, baking powder, egg, salt and melted butter in a bowl. Stir it together with a fork or a whisk. Let it sit for a few minutes to firm up and form some bubbles. Don't stir again.
Rub some olive oil inside the microwave-safe ramekin or round mug. Scoop the batter into the mug and spread the batter so it's flat on top. Don't stir the batter, as that will collapse the air bubbles.
Microwave for 90 seconds on high. I use an 800-watt microwave and 90 seconds on high is always perfect. Results might vary depending on the wattage of your microwave and the dish that you use. If the batter isn't completely dry on top and spongy, like a cake, put it back in for another 10 seconds.
Allow it to cool in the ramekin for a minute. You can run a knife or fork around the edges of the dish to make sure the muffin will come out all in one piece and not get stuck on the glass. Carefully pull out the muffin and place it on a cutting board.
It needs to cool for another 4-5 minutes, until it's cool to the touch. This helps firm up the muffin, so it doesn't crumble or fall apart. Don't skip this step!
Turn the muffin on its side and carefully slice it into four slices. The slices might seem thin, but about 3/4″ is the perfect size.
Note: How many slices you get really comes down to the type of ramekin you used. If it's wider, you might only get 2 slices. For a taller ramekin or mug, you'll get 4 slices.
Toast the Muffins
I always toast these muffin slices. Toasting them firms them up perfectly and makes the texture better. I put a little butter in the pan and let it melt, then add the muffins and toast for about 2-3 minutes per side. You can also use a toaster.
How Many Carbs Per Slice?
This recipe makes 4 slices. Each slice has 78 calories and 1 net gram of carbs. A typical serving size is 2 slices, which is 2 grams of carbs.
Can I Bake These in the Oven?
Yes, you can bake the muffins in the oven, instead of the microwave. It will take longer, but it will turn out the same.
Bake at 350 degrees F for 10-12 minutes, until the top is spongy and the inside is cooked through. A toothpick inserted should come out dry.
If you notice that the top is getting too browned, cover with tin foil.
How To Serve These Keto English Muffins
One of our favorite ways to eat these muffins is as a breakfast sandwich with egg, sausage, and cheese. Try using them as a hamburger bun or as bread for a sandwich. With 2 slices only having 2 carbs it is a great alternative to regular bread.
Like this post? Be sure to save it on your Pinterest board for later! Click to follow our Pinterest boards so you can find all our recipes!
Keto English Muffins
These keto English Muffins are the perfect way to enjoy a breakfast sandwich. The batter is microwaved for just 90 seconds and makes 2 muffins very similar to an English muffin.
Print
Rate
Ingredients
1

tablespoon

butter

melted

3

tablespoons

almond flour

1

tablespoon

coconut flour

1/2

teaspoon

baking powder

1

egg

Pinch

of salt
Instructions
Lightly grease a microwave safe ramekin or glass dish.

In another small bowl, combine melted butter, almond flour, coconut flour, baking powder, egg, and salt. Stir until well combined. Let it sit for a few minutes to firm up.

Pour the batter into the ramekin and smooth it out to get a flat surface.

Microwave for 90 seconds, or until the top is no longer wet. Allow it to cool for a minute before turning it out on a cutting board.

Slice and toast before eating.
Notes
These english muffins can be used to make a breakfast sandwich, or just serve the as a side for eggs and bacon. They also make great lunch sandwiches.
Depending on your microwave, it may take a little less or more time to cook these muffins. Start with 1 minute 30 seconds then adjust as necessary.
Nutrition
Calories:
78
kcal
|
Carbohydrates:
2
g
|
Protein:
3
g
|
Fat:
7
g
|
Saturated Fat:
3
g
|
Polyunsaturated Fat:
1
g
|
Monounsaturated Fat:
1
g
|
Trans Fat:
1
g
|
Cholesterol:
48
mg
|
Sodium:
97
mg
|
Potassium:
16
mg
|
Fiber:
1
g
|
Sugar:
1
g
|
Vitamin A:
147
IU
|
Calcium:
47
mg
|
Iron:
1
mg
The information shown is an estimate provided by an online nutrition calculator. It should not be considered a substitute for a professional nutritionist's advice.
Other Breakfast Recipes To Try
Click for Even More Breakfast Recipes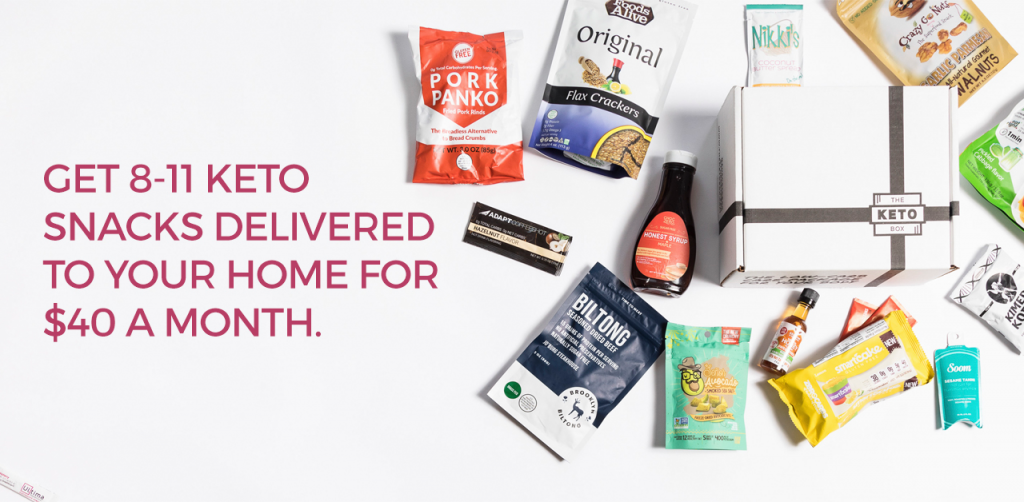 Pin it for later
Laura is an avid home cook and recipe creator. She shares her favorite low-carb recipes here that are both easy to make and full of flavor, so you don't even miss the carbs.