These Low-Carb Spinach Balls combine spinach with almond flour, egg, Parmesan cheese, and spices to make a keto friendly, low-carb snack or meal that is both healthy and delicious.
» You might also like these healthy low-carb snacks or this light strawberry spinach salad.
If you're laying off the carbs but you still want something flavorful and delicious to snack on, it's definitely time to try these delicious, cheesy spinach balls.
Spicy spinach balls are the perfect finger food. They have a nice texture and are full of flavour. They taste great with a keto Ranch dipping sauce or a low-carb tomato sauce.
This recipe is really simple and it will take you no more than 20 minutes from start to finish. It is also a great way to get your kids involved in cooking.
If you're counting your carbs, you'll be delighted to know that there are only 3 net grams of carbs in each serving. There are a total of 7 grams of carbs, with 4 grams of fiber.
Ingredients You'll Need
Spinach – Buy fresh spinach instead of frozen if you can, because the texture will be better and fresh leaves contain so much more nutrients.
Egg – Egg acts as a binder for the balls so they don't crumble and fall apart.
Parmesan / Mozzarella blend – You can find a shredded cheese mix that has Parmesan and Mozzarella in may grocery stores, but if you can't it's super easy to combine them yourself.
Basil – This one herb will really elevate the taste and aroma of the spinach balls. Always use fresh if you can. Dried basil just isn't the same.
Garlic salt – Garlic salt will give an extra punch of flavor beyond what regular salt can do.
Almond flour – One of the best low carbs flours out there. It will add some texture, but no extra flavor like coconut flour would.
Whole psyllium husks – If you don't have this ingredient, it's okay to leave it out, but it also acts as a binder and give a good fiber boost, along with textural integrity to the balls.
How to Make Low-Carb Spinach Balls
Preheat the oven to 400°F (200°C) and line a baking sheet with parchment paper or a silicone mat.
Pour 1 cup of water into a saucepan. Heat until it reaches a rolling boil. Once boiling, add the spinach leaves and cover for 2 minutes.
After 2 minutes, rinse the spinach in cold water. Squeeze the excess water out with your hands or using a piece of cheesecloth. Cut the spinach into small pieces.
Stir the rest of the ingredients in a bowl until combined. I usually mix the dry ingredients first, then add the eggs.
Mix in the spinach and stir to form a dough. If the dough is still wet and won't roll itself, add a little bit more almond flour. You can also use low-carb bread crumbs instead.
Roll into small balls to make about 18-20 and put them on the baking sheet with space in between. To get perfect portions of spinach balls each time, I use an ice cream scoop. Lastly, bake for 20-25 minutes until they're golden brown and crispy.
Serve with homemade keto ranch dressing or blue cheese dressing.
Substitutions & Additions
If you don't have basil, feel free to use a different fresh herb, like rosemary or thyme to add flavour.
Parmesan adds a nice saltiness to the balls that you won't get if you don't use Parmesan so you may need to add a little salt. The cheesy blend can be substituted with a cheddar or Monterrey Jack cheese to spice things up a bit.
While almond flour is an easy ingredient for most people on a low-carb diet since you likely have it around for other things, you can also use other types of low-carb flour you might have on hand instead. I don't recommend using coconut flour, however, because it soaks up too much liquid and will give a taste of coconut to your balls.
Storage
These spinach balls should be eaten within 3 days if stored in the fridge, but can also be frozen for up to 3 months. You can freeze them either before or after you've cooked them. If you plan to cook them later, freeze them uncooked.
Place the balls on a plate lined with parchment paper, leaving some space in between so they don't stick together. Put the plate in the freezer for about 15 minutes.
Once they are firm, transfer the balls to a plastic container to put in the freezer. They won't stick together since they are individually frozen. You can also put them in a resealable bag in the freezer and just pull out what you need.
Questions About Low-Carb Spinach Balls
How should I defrost the spinach balls?
If you've frozen your spinach balls, there's no need to thaw them before you put them in the oven. Just place them on a baking sheet, as per the recipe instructions and cook as usual. They will just need a few minutes longer to cook through from frozen.
Can I cook them in the air fryer?
Yes, you can cook these in an air fryer. To make sure they turn out crispy, cook them in a single layer, not touching each other. Cook on 400 degrees F for 12-15 minutes, turning halfway through.
What flavour of sauce do you suggest pairing these with?
You can dip them in a keto pizza sauce, ranch dressing, blue cheese dressing, or just eat them on their own. You can also make a more substantial meal by serving them over cauliflower rice.
Pin it! If you liked this recipe please share it on Pinterest so others can find it too. We always appreciate your support! Follow us on Pinterest and Facebook to keep up on what we're cooking up.
Low-Carb Spinach Balls
These Low Carb Spinach Balls are made with cheese and almond flour with seasonings.
Print
Rate
Ingredients
6

cups

fresh spinach

trimmed and washed

1

cup

shredded Parmesan/Mozzarella blend

¼

cup

fresh basil

chopped

1 1/2

teaspoons

garlic salt

1

cup

almond flour

1

tablespoon

whole psyllium husk

3

large

eggs

beaten
Instructions
Preheat oven to 400°F (200°C). Line a baking sheet with parchment paper or silicon mat.

Boil 1 cup of water in a sauce pan over high heat. Remove from the heat. Add the spinach leaves. Cover and let sit for 2 minutes.

After 2 minutes, drain and rinse the spinach with cold water. Squeeze out the excess water from the spinach with your hands or in a piece of cheesecloth. Chop the spinach into small pieces.

In a medium bowl, combine the cheese, basil, garlic salt,

almond flour

, psyllium husk and egg. Stir to combine.

Add the spinach to the bowl and mix it into the other ingredients to form a dough. If it's too wet and cannot be rolled, add a little more almond flour.

Roll into 1 1/2 inch balls to make approximately 18-20 balls. Place the balls, spaced out, on the baking sheet. Bake for 20-25 minutes, until golden brown and crispy.

Serve with homemade keto ranch dressing or blue cheese dressing.
Notes
Parmesan mozzarella blend can be substituted with cheddar cheese or Monterrey Jack for a bit of spiciness.

You cannot substitute coconut flour for almond flour. You can use low-carb bread crumbs.

You can use different fresh herbs if you like, such as parsley, rosemary, or thyme.

Freeze on a plate covered with parchment paper. After 1 hour, they are frozen enough to be transferred into an airtight container. Keep in the freezer for up to 3 months.

You don't need to defrost the balls before baking. Place them on a tray covered with parchment paper and bake as regular.
Nutrition
Calories:
211
kcal
|
Carbohydrates:
7
g
|
Protein:
12
g
|
Fat:
16
g
|
Saturated Fat:
4
g
|
Polyunsaturated Fat:
1
g
|
Monounsaturated Fat:
2
g
|
Trans Fat:
1
g
|
Cholesterol:
108
mg
|
Sodium:
758
mg
|
Potassium:
219
mg
|
Fiber:
4
g
|
Sugar:
1
g
|
Vitamin A:
3127
IU
|
Vitamin C:
9
mg
|
Calcium:
184
mg
|
Iron:
2
mg
The information shown is an estimate provided by an online nutrition calculator. It should not be considered a substitute for a professional nutritionist's advice.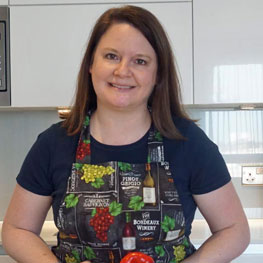 Laura is dedicated to a low-carb lifestyle after losing 52 pounds on the keto diet. As many of us do, she struggles with her weight and has found that one of the only diet lifestyles that allows her to maintain a healthy weight is a low-carb diet.  She shares her favorite low-carb recipes here that are both easy to make and full of flavor, so you don't even miss the carbs.