This low-carb pizza sauce is easy to whip up and you can be sure of the ingredients and the sugar content because you made it yourself. It's better than store-bought sauce.
» Use this sauce to make a delicious pizza using Fathead dough. Or skip the dough and make pizza casserole.
This low-carb pizza sauce doesn't contain all the added sugar most store-bought sauces have, which makes it delightfully low carb, but still super tasty.
The difficult thing about store-bought pizza sauce is that it's often not appropriate for a low-carb or keto diet, because it's packed with added sugars. Making your own at home is an easy way to avoid that.
Since tomatoes themselves have some carbs, it's imperative not to add any extra sugar. This recipe has absolutely no added sugar, and it's incredibly tasty.
Ingredients You Need
With just 4 ingredients, this is probably the easiest pizza sauce you've ever made. I've seen recipes that include 10 or more ingredients, but I really don't think that's necessary.
Chopped tomatoes with no added sugar – use whatever brand you like best
Italian seasoning – this is generally a blend of oregano, thyme, sage, and basil
Salt
Garlic powder
The real key to great sauce is in the amount of time it's stewed. A pizza sauce can be mixed together in minutes, but if it's not cooked on the stovetop for at least 20 minutes, it's just not going to have the same flavor and intensity, no matter how many ingredients you add.
How to Make Pizza Sauce
If you want a smooth sauce, puree the chopped tomatoes in a blender or with a handheld stick blender. With the stick blender, you can blend them directly in the pot where they'll be cooked, saving on time and dishes to clean
Add the pureed tomatoes, Italian seasoning, salt, and garlic powder to a small saucepan. Set it over medium heat.
Cook, stirring occasionally, for about 15 minutes, or until slightly reduced and thickened.
Puree the Sauce or Not?
One consideration you'll need to make is whether to puree the tomatoes or leave them in chunks. The sauce will be a bit chunky when using chopped tomatoes in the can.
If you prefer smooth sauce, you can use canned tomato puree instead of chopped tomatoes or puree it quickly in the pot with an immersion blender.
What About the Crust?
There are a few different variations of low-carb pizza crust out there. Here's our recipe for fathead pizza crust, which is the one I prefer most. You can also make a cauliflower crust.
We've even got a recipe for a ground chicken pizza crust if you're feeling like trying something different.
One serving of fathead pizza crust has 4 net grams of carbs. So when you're totalling up all the carbs in the pizza you make, be sure to add the crust and the sauce together. In 1/4 of a pizza, you will get 5 net grams of carbs between the crust and the sauce.
Questions About Low-Carb Pizza Sauce
How many carbs are in this pizza sauce?
There are 4 net grams of carbs in one serving of this pizza sauce. It's relatively high because tomatoes are high in carbs and lower in fiber, which offsets the carbs. If you use all of the sauce made in this recipe on a pizza and consume 1/4 of that pizza, it will be 4 net grams of carbs in your serving.
Does store-bought pizza sauce have carbs?
A store-bought pizza sauce has at least as many, oftentimes many more, carbs than our low-carb version because they often include sugar. Depending on the amount of sugar used, there can be as many as 10 net grams of carbs per serving in store-bought pizza sauce.
What else can I use this pizza sauce for?
You can use this recipe as a tomato sauce for low-carb noodles or try it in our Supreme Pizza Casserole or as a topping for our Supreme Pizza Eggplants.
Related Posts:
More Recipes from Delightfully Low Carb
Pin it! If you liked this recipe please share it on Pinterest so others can find it too. We always appreciate your support! Follow us on Pinterest and Facebook to keep up on what we're cooking up.
Low-Carb Pizza Sauce
This low-carb pizza sauce has just 4 ingredients and uses slow cooking to build great flavor and intensity.
Print
Rate
Ingredients
14

ounce

can chopped tomatoes

with no added sugar

1

teaspoon

italian seasoning

1/2

teaspoon

salt

1/2

teaspoon

garlic powder
Instructions
Puree the chopped tomatoes in a

blender

or with a handheld stick blender.

Add the tomatoes, italian seasoning, salt, and garlic powder to a small saucepan. Set it over medium-low heat.

Cook, stirring occasionally, for 25 minutes, or until reduced and thickened.
Notes
Makes enough sauce for 4 medium pizzas. Keep this in mind when calculating net carbs. There is only 1/16 of this recipe used per serving of pizza.
Sauce can be frozen for later use.
Nutrition
Calories:
19
kcal
|
Carbohydrates:
5
g
|
Protein:
1
g
|
Fat:
1
g
|
Saturated Fat:
1
g
|
Sodium:
433
mg
|
Potassium:
187
mg
|
Fiber:
1
g
|
Sugar:
2
g
|
Vitamin A:
116
IU
|
Vitamin C:
9
mg
|
Calcium:
38
mg
|
Iron:
1
mg
The information shown is an estimate provided by an online nutrition calculator. It should not be considered a substitute for a professional nutritionist's advice.
Read More About a Low-Carb Lifestyle
Like it? Pin it for later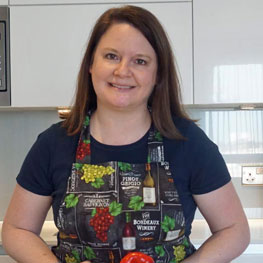 Laura is dedicated to a low-carb lifestyle after losing 52 pounds on the keto diet. As many of us do, she struggles with her weight and has found that one of the only diet lifestyles that allows her to maintain a healthy weight is a low-carb diet.  She shares her favorite low-carb recipes here that are both easy to make and full of flavor, so you don't even miss the carbs.