This 4th of July Fruit & Cheese Platter is just what any 4th of July party needs to make it festive and colorful.
» You might like this Keto No-Bake 4th of July Dessert and Keto Cheesecake Bites with Strawberry Topping.
One of my favorite things about 4th of July is making all the food for the party. I especially love making things that are red, white, and blue in keeping with the theme.
This fruit and cheese platter is super easy to put together, which makes it perfect for your barbecue or party. It goes well with all the other accouterments of a 4th of July meal, like this shredded chicken, baby back ribs, and chicken wings.
When you're on a low-carb diet, it can be difficult to find things to make that you can enjoy and your family will also love. No one's going to complain about this being low carb.
Ingredients You'll Need
To make this platter, you'll need:
A large rectangular platter – White or patriotic preferred
Watermelon – We like to choose seedless watermelons simply because you don't have to pick out seeds. Use any watermelon you like.
Feta cheese – Feta is a sheep's milk cheese originating in Greece. It has a hard, crumbly texture with a delicious salty flavor. If you can't find it in a block you could use crumbled feta.
Blueberries – This platter is best with fresh blueberries. You could substitute blackberries to use the same color scheme.
Arugula – This leafy green has a peppery, spicy, and slightly tart flavor that pairs well with the fruit and cheese in this platter.
How to Make a 4th of July Fruit Platter
To save time, you can cube the feta and watermelon ahead of time and plate it when you're ready.
Start by laying down the arugula over the whole platter. Then add the center row of watermelon, so you can be sure to center everything on the plate. Build out from there with a row of feta on either side, then another row of watermelon on either side of the feta.
Finally, add the blueberries in a neat box shape in the upper left corner.
This salad doesn't require a dressing. It's very simple.
How Many Carbs in Watermelon?
A half-cup of diced watermelon contains 5.5g of carbs. It's not the fruit with the least carbs per serving, but it's not bad, either. Watermelon is packed with vitamin A, vitamin C, beta-carotene, and lycopene, so you'll be getting lots of healthy vitamins.
Do be sure to mind the serving size though. It can be easy to overeat watermelon, especially on a hot day. Gravitate more to the feta to get your healthy fats in!
Are Blueberries Keto Friendly?
Yes, raw or frozen blueberries are considered keto friendly. This is because they are low in sugar and low in carbs. They are one of the best berries to eat while on a keto diet, in fact.
A half a cup of raw blueberries contains a total of 10.5 total grams of carbs. This total includes fiber, of which there is 1.7 grams in 1/2 cup, so there are 8.8 grams of net carbs in blueberries.
In case you're wondering, 1/2 cup of blueberries also contains .5 grams of protein, .2 grams of fat, and 41 calories.
One thing to keep in mind is that the carb and nutritional content of blueberries is dramatically different between raw (fresh/frozen) and dried blueberries.
Frequently Asked Questions
How do you know if a watermelon is ripe?
There are a few easy ways to pick a good watermelon at the grocery store. A ripe melon will have a deep hollow sound when you knock on it. Check for a yellow field spot on one side. That is an indication that it was left in the field to ripen. Lastly, check the smell. A ripe watermelon should smell like melon.
What cheese can I use other than feta?
If you can't find or don't like feta try one of these alternatives. Queso fresco also called queso blanco or cotija cheeses are firm, white, slightly salty cheeses which will work nicely. You could also try halloumi or goat cheese.
Tips & Notes
The salad will keep in a cool place for up to 3 hours.
If there are leftovers, be sure to store each component separately.
Other Recipes to Make for 4th of July
Pin it! If you liked this recipe please share it on Pinterest so others can find it too. We always appreciate your support! Follow us on Pinterest and Facebook to keep up on what we're cooking up.
Festive 4th of July Fruit Platter
This festive and colorful 4th of July Platter is low in carbs and super easy to make.
Print
Rate
Ingredients
2

cups

arugula

1

cup

blueberries

4

cups

seedless watermelon

cut in 1" cubes (approximately half a medium melon)

16

oz

feta cheese

cut in 1" cubes
Instructions
Cube the watermelon and feta cheese. You can store these in separate containers until ready to plate.

On a large rectangular platter, spread the arugula out evenly. Starting with the center line, spread the watermelon in a thin line. Spread the feta in a line below the watermelon, then follow with another line of watermelon below the feta.

Place the blueberries in a square on the left, about 1/3 of the way into the platter. Then add another line of feta cheese above the center line of watermelon and the final line of watermelon above that.
Notes
The salad will keep in a cool place for up to 3 hours.
If there are leftovers, be sure to store each component separately.
Nutrition
Calories:
123
kcal
|
Carbohydrates:
7
g
|
Protein:
6
g
|
Fat:
8
g
|
Saturated Fat:
6
g
|
Cholesterol:
34
mg
|
Sodium:
423
mg
|
Potassium:
102
mg
|
Fiber:
1
g
|
Sugar:
6
g
|
Vitamin A:
534
IU
|
Vitamin C:
6
mg
|
Calcium:
195
mg
|
Iron:
1
mg
The information shown is an estimate provided by an online nutrition calculator. It should not be considered a substitute for a professional nutritionist's advice.
Read More About a Low-Carb Lifestyle
Pin it for later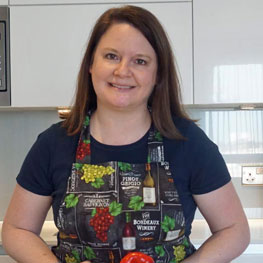 Laura is dedicated to a low-carb lifestyle after losing 52 pounds on the keto diet. As many of us do, she struggles with her weight and has found that one of the only diet lifestyles that allows her to maintain a healthy weight is a low-carb diet.  She shares her favorite low-carb recipes here that are both easy to make and full of flavor, so you don't even miss the carbs.