These keto-friendly Baked Eggplant Caprese Snacks are piled up with tomato, basil and mozzarella then baked until they're melted – perfect for a snack or light lunch.
» Also try these supreme eggplant pizzas and keto eggplant lasagna.
I make these eggplant caprese snacks all the time for lunch. They're so easy to make, and they help me use up all the wonderful eggplant I've been receiving in my Imperfect Foods box.
All you need for these little snacks is eggplant slices, fresh cherry tomatoes, mozzarella, basil and some olive oil, salt and pepper. For another great snack try these easy low-carb spinach balls.
What Readers Are Saying:
Christian says:
Thank you so much for coming up with a lower carb alternative to caprese on toast. It was so good. I drizzled on some balsamic reduction and couldn't stop eating them!
Ingredients You Need
Eggplant – The eggplant is the most important part of this recipe, so you'll want to make sure you find one that's nice and round in the middle. I look for one that's medium sized with at least a 3-4″ diameter.
Cherry tomatoes – Slice them or cut them into fourths so they are in bite-sized pieces. It makes the eggplant snacks easier to eat. You can use regular tomatoes too, but they are a bit too watery in my opinion.
Mozzarella – shredded mozzarella makes these snacks very easy to make
Basil – It's always best to use fresh basil.
Olive oil, salt, pepper
Equipment Needed
Baking sheet
Parchment paper
Basting brush (optional)
How to Make Eggplant Caprese Snacks
Step 1: Slice & Dress the Eggplant
Start by slicing the eggplant into 1/4″ thick rounds. If you make the slices thicker than this, they won't cook as fast, which can lead to undercooked eggplant, or overcooked toppings.
There's no need to salt the eggplant in advance. I always salt the eggplant for my eggplant lasagna to pull out the excess water in the fruit, but it's not necessary for this dish.
Brush olive oil onto each slice of eggplant, then salt and pepper them and place them on a baking tray.
Step 2: Bake
Bake the eggplant for about 10 minutes at 400 degrees F. This will give them a chance to cook a little before you add the toppings. So pull them out of the oven and then dress them up with the tomatoes, basil and top with shredded mozzarella.
Bake for 8 more minutes. They're done when the mozzarella has melted.
Tips for Baking Caprese Snacks
I use cherry tomatoes because they contain less water content, and they have more concentrated flavor. Cut them up into little pieces, so you can easily cut through the eggplant snacks with a fork to eat.
I use shredded mozzarella for these, but you can also cut a slice of mozzarella from a fresh ball of mozzarella and use that instead.
These can be baked ahead for a party. They are delicious when they're just out of the oven, but they don't lose their appeal as they cool, either. If you're looking for a more bite-sized appetizer, you could use baby eggplant, which will give you about a silver dollar sized round, instead of this larger size.
Alternatives & Suggestions
You can also make grilled eggplant, if you want to make them on an outdoor grill. You'll want to cook them over indirect heat, so they don't burn.
Make a fresh caprese by not putting the snacks back into the oven after dressing them. They're just as good with fresh tomatoes and mozzarella. Take the roasted eggplant out of the oven and cool it for a few minutes before dressing with tomatoes, basil, and mozzarella or burrata.
Dress them with a balsamic glaze or a drizzle of olive oil to jazz them up a bit.
Questions About the Recipe
Can I make grilled eggplant?
Yes, you can definitely make grilled eggplant! Grilling eggplant is a delicious way to prepare it, as it brings out its natural sweetness and gives it a smoky flavor. To grill eggplant, slice it into rounds or lengthwise, brush with olive oil, and season with salt and pepper. Grill for a few minutes on each side until tender and slightly charred.
Can I drizzle on balsamic glaze?
Yes, you can certainly drizzle balsamic glaze on grilled eggplant! Balsamic glaze is a sweet and tangy sauce made from balsamic vinegar that is reduced down until it becomes thick and syrupy. It pairs well with grilled vegetables like eggplant, as well as meats and salads.
How to I make crispy eggplant?
To make crispy eggplant, you'll want to start by slicing it into rounds or sticks. Then, you'll want to dip the eggplant into a mixture of beaten egg and milk, and then coat it in a mixture of breadcrumbs and Parmesan cheese. Fry the coated eggplant in hot oil until golden brown and crispy.
Other Recipes to Try
Pin it! If you liked this recipe please share it on Pinterest so others can find it too. We always appreciate your support! Follow us on Pinterest and Facebook to keep up on what we're cooking up.
Baked Eggplant Caprese Snacks
These baked eggplant caprese appetizers make a great snack or light lunch, or make them ahead for a stunning party eppetizer.
Print
Rate
Ingredients
1

medium

eggplant

sliced 1/4 inch thick

1

tbsp

olive oil

1/4

tsp

salt

1/4

tsp

pepper

12

cherry tomatoes

chopped into small pieces

12

leaves

basil

sliced

1/2

cup

mozzarella

shredded
Instructions
Preheat the oven to 400 degrees F (200C).

Slice the eggplant into 1/4" thick slices. Brush with olive oil, season with salt and pepper, then lay the slices out on a baking tray. Bake for 10 minutes.

Remove the tray from the oven. Top the slices with tomatoes, basil and mozzarella. Return to the oven for 5 minutes, until the cheese is melted.
Notes
Each serving contains 5 net grams of carbs.
To make smaller bites, use baby eggplant.
Nutrition
Serving:
3
pieces
|
Calories:
111
kcal
|
Carbohydrates:
9
g
|
Protein:
5
g
|
Fat:
7
g
|
Saturated Fat:
2
g
|
Cholesterol:
11
mg
|
Sodium:
241
mg
|
Potassium:
384
mg
|
Fiber:
4
g
|
Sugar:
5
g
|
Vitamin A:
449
IU
|
Vitamin C:
14
mg
|
Calcium:
89
mg
|
Iron:
1
mg
The information shown is an estimate provided by an online nutrition calculator. It should not be considered a substitute for a professional nutritionist's advice.
Read More About a Low-Carb Lifestyle
Pin it for later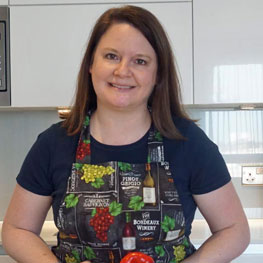 Laura is dedicated to a low-carb lifestyle after losing 52 pounds on the keto diet. As many of us do, she struggles with her weight and has found that one of the only diet lifestyles that allows her to maintain a healthy weight is a low-carb diet.  She shares her favorite low-carb recipes here that are both easy to make and full of flavor, so you don't even miss the carbs.