This article has links to products and services we recommend, which we may make commission from.
This Easy Keto Stuffed Eggplant is super tasty, quick to put together, and meatless, so this dish makes a great addition to your Meatless Monday rotation.
When you're on a keto diet, since you can't use bread or a crust, you're always looking for new ways to package ingredients. Eggplant is one of the best vessels for keto cooking. We use them regularly, as well as peppers (taco stuffed peppers) and zucchini (stuffed zucchini).
Eggplants are the perfect vessel for keto meals because their flavor doesn't overpower the ingredients and they hold up well in the oven. However, eggplant does have carbs. One whole large eggplant (unpeeled) has about 30 grams of carbs and 6 grams of fiber, so about 24 net carbs per eggplant.
The serving size of this dish is 1/2 an eggplant, but that's still 12 net grams of carbs. To cut down on the amount of carbs in this dish, we remove the flesh from inside the eggplant, leaving just about 1/4 inch of flesh around the inside. That lowers the total net carbs to 7, making it within an acceptable range for a keto diet.
If 7 net carbs is still a bit too high for your diet constraints, you can remove another 1.5 grams of carbs by peeling the eggplant first.
Stuffed Eggplant Ingredients
These eggplants are stuffed with:
Diced tomatoes
Mushrooms
Onion
Garlic
Mozzarella cheese
Spices
The stuffed eggplants in this recipe are meatless. However, if you want to mix it up, you can add ground turkey, pork or beef, if you want. It's also great with pepperoni or chopped chorizo.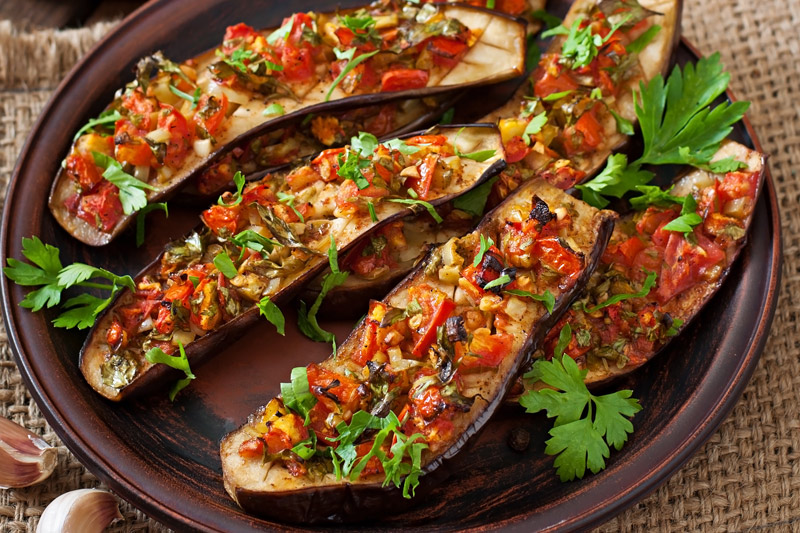 This is a great way to use the surplus of garden tomatoes. Just quickly blanch and peel the tomatoes first (it's so much better without the peel).
You can also make it with canned tomatoes rather than fresh. If that's all you have on hand, it's perfectly fine.
How to Make Stuffed Eggplant
Since the eggplant takes longer than the rest of the ingredients to cook, the baking takes place in two parts.
Step One
Slice the eggplant lengthwise and scoop or cut out most of the insides, leaving about ¼" of flesh all around. To keep the carb count low, we don't use the inside flesh in this recipe. You can save it for another use.
Rub the eggplant flesh with olive oil, sprinkle with salt and pepper, and bake it in the oven for 20 minutes.
Step Two
As the eggplant is cooking, you can mix up the filling. In a large skillet, start by heating the rest of the olive oil, then sweating the onions over medium heat for about 5 minutes.
Add in the mushrooms, garlic, herbs, and eggplant flesh. Cook over medium heat until browned, about 5 minutes. Add the tomatoes. Continue cooking until most of the juice from the tomatoes has evaporated, about 10 minutes. Remove from heat. Add the mozzarella and basil to the filling and stir.
Step Three
When the eggplant is done baking, remove it from the oven and stuff the eggplant halves with the filling.
Step Four
Return to the oven for an additional 20 minutes. You'll know it's done with the tops are browned and the filling is bubbly.
I like to garnish with some red pepper flakes and extra fresh basil. You can also add a sprinkle of grated Parmesan cheese if you want.
Reheating and Freezing
These Stuffed Eggplants can be made in advance. You'll need to cook the eggplant for the first 20 minutes, then allow them to cool before stuffing with the filling. At this point they can be put in the refrigerator for up to 24 hours.
You can also freeze them at this stage. When you're ready to eat them, just remove them from the freezer and bake them in the oven for 25-30 minutes. There's no need to thaw them first.
I don't recommend reheating it in the microwave, because they'll become soggy and watery after frozen.
This Keto Stuffed Eggplant is one of my favorites, but we have a lot of other keto recipes to check out. Be sure to try the recipes below, as well as others you might like (just use the search bar at the top of the site to look for recipes you'll love).
Other Recipes to Try
Like this post? Be sure to save it on your Pinterest board for later! Click to follow our Pinterest boards so you can find all our recipes!
Keto Stuffed Eggplant
This easy keto stuffed eggplant makes a great weeknight meal, with or without meat.
Print
Rate
Ingredients
2

medium

eggplants

1 1/2

tbsp

olive oil

divided

1/2

onion

finely chopped

8

mushrooms

roughly chopped

1

clove

garlic

minced

1/2

tsp

dried parsley

1/2

tsp

dried oregano

2

medium

tomatoes

diced

1/2

cup

mozzarella cheese

shredded

handful fresh basil leaves

shredded

salt and freshly ground black pepper

Dried red chilli flakes

for garnish
Instructions
Preheat the oven to 400°F (200°C).

Cut the eggplant in half, lengthways, and cut out the flesh, leaving about ¼" all around. Reserve the flesh for another use.

Brush the inside of the eggplant with olive oil and season with salt. Place on a baking tray and bake for 20 minutes.

Meanwhile, heat the olive oil in a skillet. Add the onion and saute on medium heat until softened. Add the mushrooms, garlic, and herbs. Stir and cook until browned.

Next add the chopped tomatoes. Stir to combine, reduce the heat and simmer over medium heat, about 5 minutes. Remove from heat. Add the mozzarella cheese and basil. Stir just to combine.

Spoon the mixture into the eggplant halves. Season with salt and pepper. Bake the stuffed eggplants for 20 minutes. Garnish with red pepper flakes and fresh basil leaves, if desired.
Notes
To cut down on the carbs in this dish, we don't use the inner flesh of the eggplant. Reserve it for another use.
You can add ground beef, pork, or chicken to this recipe. Just remove one tomato to preserve the ratio of ingredients.
Nutrition
Calories:
144
kcal
|
Carbohydrates:
12
g
|
Protein:
6
g
|
Fat:
9
g
|
Saturated Fat:
3
g
|
Cholesterol:
11
mg
|
Sodium:
96
mg
|
Potassium:
566
mg
|
Fiber:
5
g
|
Sugar:
7
g
|
Vitamin A:
633
IU
|
Vitamin C:
13
mg
|
Calcium:
90
mg
|
Iron:
1
mg
Read More About a Low-Carb Lifestyle
Pin it for later
Laura is an avid home cook and recipe creator. She shares her favorite low-carb recipes here that are both easy to make and full of flavor, so you don't even miss the carbs.