When chocolate cravings hit, these are the absolute best way to satisfy the craving. These keto brownies are super fudgy and rich, sweet and chocolaty, just the way you want them to be, but without the extra carbs.
» Also try these keto chocolate chip cookies and our favorite keto cinnamon roll mug cake.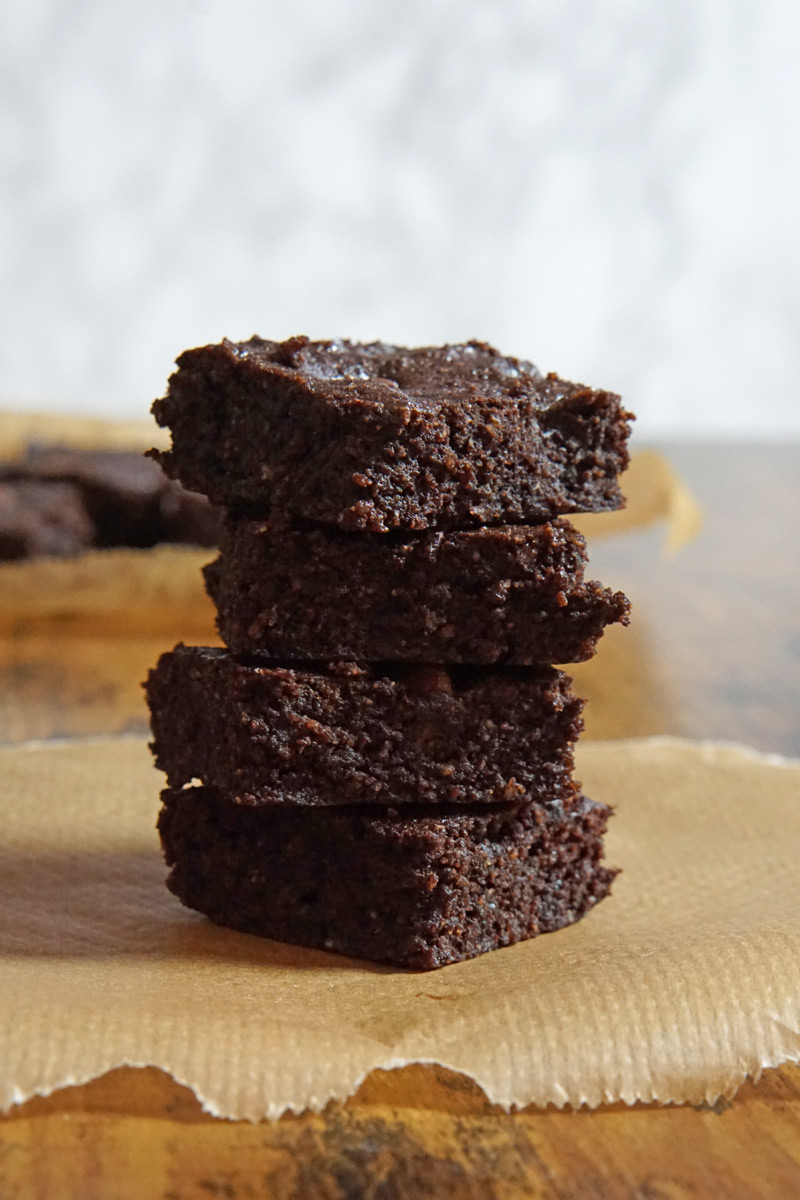 Sometimes a brownie is the only thing that can satisfy those cravings, am I right? Well, you're going to be incredibly happy that you found this recipe, because these brownies are the absolute best.
When I started my keto diet, I was super sad to give up sweet treats like brownies and chocolate chip cookies. I can tell you it didn't take very long for me to realize I could still make these treats, but in a much healthier way, without all the carbs and sugar.
The reason these low-carb brownies are so good is that you can barely tell they are keto brownies. They are super fudgy and the texture is only very slightly different from the original. I would bet if you served these to someone who didn't know, they would never guess they were keto friendly.
Yes, they are that good!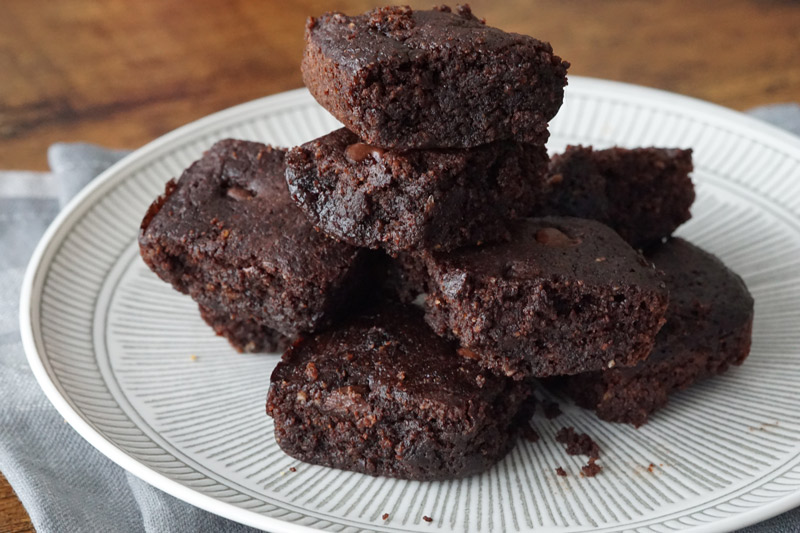 This recipe is a small batch of just 8 brownies. I don't like to make a large batch because then I'll be tempted to eat them all. I like for brownies to be an occasional treat. If you want to make more, just double the recipe.
Ingredients You'll Need
Almond flour – use blanched almond flour, which means the husk of the almond has been removed, thus it's a bit finer than unblanched.
Cocoa powder– Use an unsweetened, Dutch process cocoa powder. Higher-quality cocoa powders contain more fat which helps with emulsification.
Baking powder and salt
Butter – Melted
Coconut oil
Egg – It's always a good idea to take the egg out of the fridge to bring it to room temp before cooking.
Sugar substitute –  I use allulose as a sugar substitute. You can use Swerve, monkfruit, Erythritol or Xylitol. It's really up to you. The reason I use allulose is because it's a no calorie no carb sweetener like erythritol, but it doesn't have the cooling effect. 
Chocolate chips – Sugar free chocolate chips.
What Sugar Substitute To Use
If you use Erythritol or Swerve as a sugar substitute in this recipe, there will be a cooling effect, which feels like a burst of cool air in your mouth. To me, that's the dead giveaway that these are keto brownies.
I'm not a big fan of the cooling effect. Instead, I use allulose, which has zero calories, zero net carbs, and zero glycemic index, just like Erythritol. Allulose is a little more difficult to find than Erythritol, but you can purchase it directly from WholesomeYum, along with many other keto products. I think it's absolutely worth it to ditch the cooling effect!
Learn more about low-carb sweeteners and conversion here
.
How to Make Keto Brownies
Preheat the oven to 350° F (175 C). Grease a loaf pan or line with parchment paper. I prefer parchment paper so I can easily pull the brownies out of the pan to cut them.
Mix the almond flour, cocoa powder, baking powder and salt together in a mixing bowl.
I use almond flour from WholesomeYum, which you can buy directly through that link (it's our affiliate link). It's the best almond flour I've found. It's a blanched finely ground almond flour with a great texture and flavor, with just 2 grams or net carbs per serving.
In case you're wondering, you can't substitute coconut flour in this recipe. It won't work. So don't try it. If you want to use coconut flour instead, I'd recommend finding a recipe that uses it.
Add the melted butter, coconut oil, egg and sugar. Stir it all together until it's a wet batter.
Pour the batter into the prepared loaf pan and spread it out evenly.
You can add any toppings you wish at this stage. I like to add sugar-free chocolate chips. I place them on top so every piece gets two. You obviously don't have to do it that way. You can add other things, like nuts or cocoa nibs, if you want. It'll add a few more carbs to the total, but you can also swirl in some natural peanut butter or some cream cheese. Lots of possibilities!
Bake for 15 minutes or until the center is firm. When done, allow them to cool completely before cutting. I know it's hard to resist that intoxicating aroma, but they need to firm up before you cut into them.
How Many Carbs in Keto Brownies?
There are 8 brownies in this recipe. Each brownie has 3 net grams of carbs. Since each piece is relatively small, the carb count remains the same whether you're using Erythritol or Xylitol sweetener.
The calories will vary depending on the sugar substitute and cocoa powder you use.
Tips for Keto Brownies
Use the highest quality cocoa you can find. The quality makes a big difference. There are a few things you should look for:
Alkalised or "Dutched" cocoa powder: this process helps bring out the chocolaty notes and reduce the bitter, earthy flavor of natural cocoa powder.
Sugar-free, no-sugar added, unsweetened (there are many ways this might be represented on the package, but one of these should be present).
At least 90% dark chocolate, the higher percentage the better. I use Ghirardelli 100% cocoa dutch processed.
If you want to make a larger batch, just double the ingredients and use an 8×8″ baking dish. You may need to bake it for up to 20 minutes. The center should be firm.
More Recipes from Delightfully Low Carb
Pin it! If you liked this recipe please share it on Pinterest so others can find it too. We always appreciate your support! Follow us on Pinterest and Facebook to keep up on what we're cooking up.
Keto Brownies
Rich and fudge-like brownies that are sweet and chocolaty without the carbs.
Print
Rate
Ingredients
1/2

cup

almond flour

55g

3

tablespoons

cacao powder

22g

1/2

teaspoon

baking powder

1/4

teaspoon

salt

2 1/2

tablespoons

melted butter

1 1/2

tablespoons

coconut oil

1

egg

1/3

cup

xylitol or erythritol

70g

16

sugar-free chocolate chips

if desired
Instructions
Preheat the oven to 350° F (175 C). Grease a loaf pan or line with parchment paper.

Mix all the ingredients in a mixing bowl until well combined.

Pour the batter into the prepared loaf pan. Add the

chocolate chips

on top, if you're using them. Bake for 15 minutes or until the center is firm. When done, allow to cool completely before cutting, so they can firm up completely.
Nutrition
Calories:
115
kcal
|
Carbohydrates:
4
g
|
Protein:
3
g
|
Fat:
11
g
|
Saturated Fat:
5
g
|
Trans Fat:
1
g
|
Cholesterol:
30
mg
|
Sodium:
143
mg
|
Potassium:
37
mg
|
Fiber:
1
g
|
Sugar:
1
g
|
Vitamin A:
139
IU
|
Calcium:
38
mg
|
Iron:
1
mg
The information shown is an estimate provided by an online nutrition calculator. It should not be considered a substitute for a professional nutritionist's advice.
Other Keto and Low-Carb Dessert Recipes To Try
Click for Even More Keto and Low-Carb Dessert Recipes
Pin it for later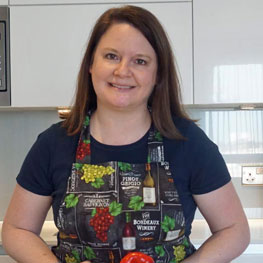 Laura is dedicated to a low-carb lifestyle after losing 52 pounds on the keto diet. As many of us do, she struggles with her weight and has found that one of the only diet lifestyles that allows her to maintain a healthy weight is a low-carb diet.  She shares her favorite low-carb recipes here that are both easy to make and full of flavor, so you don't even miss the carbs.