This article has links to products that we may make commission from.
This Keto Pumpkin Soup Recipe is perfect for a chilly fall or winter evening when you're craving a warming, savory soup.
When October rolls around, I'm eager to buy pumpkins so I can make all my favorite keto pumpkin treats, like these keto pumpkin muffins, bread, and cookies. That leaves a lot of pumpkin puree left over, so pumpkin soup is the next thing on the list.
It's easy to make this Low-carb Pumpkin Soup on the stove top. It takes just 30 minutes.
The best thing about this soup is that everyone can enjoy it. It's vegetarian, and gluten free. The soup turns out creamy and delicious, without the addition of any cream (though we do add a bit for good measure). So if you wanted to make it dairy free, you can do so by just leaving out the cream.
Is Pumpkin Keto Friendly?
You're probably also wondering if pumpkin is actually okay on a keto diet. We always hear that root vegetables are high in carbs. But the answer to that is yes. Pumpkin is keto friendly, in moderation.
This soup uses very little pumpkin per serving, so there's no problem with the pumpkin. A cup of cooked pumpkin has only 12g of carbs, 3 of which are fiber. We use 1 1/2 cups of pumpkin in this soup with 4 servings, so you're getting less than 4 grams of carbs per serving.
I always use fresh pumpkin, because pumpkins are so easy to get this time of year. However, you may want to use canned pumpkin, which is fine too. Just be sure to buy pure pumpkin puree with no added sugar.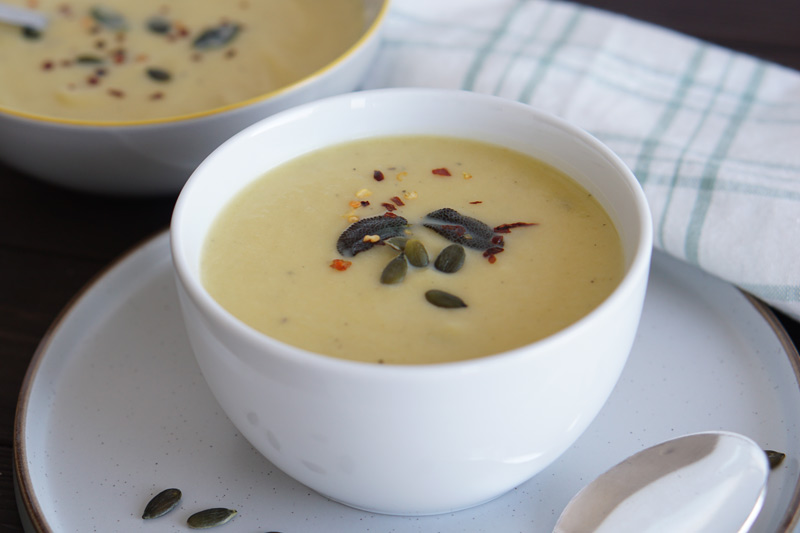 Do I Cook Raw Pumpkin First?
If you're using fresh pumpkin for this recipe, you will need to cook it.
You can first roast the fresh pumpkin in the oven to cook it, then blend it with the soup and heat it on the stove top.
The other way is to cook the pumpkin on the stovetop while putting this soup together.
Not pre-cooking the pumpkin cuts down on prep and cook time, and it creates less dishes (which is always a good thing, in my book). Cooking the pumpkin in the soup allows the melding the flavors of the vegetables into the broth. It turns out full of flavor!
If you want to roast the pumpkin first, cut it in half (remove the seeds and insides), place it upside down on a baking sheet with a silicon mat, then roast it for 1+ hour on 375 degrees F, until the flesh is fork tender.
How to Make Keto Pumpkin Soup
1. Prepare and Saute the Vegetables
One of the most important aspects of a good pumpkin soup is the flavor that develops from sautéing the onion and celery.
Chop the vegetables into small cubes that are all the same size, so they cook evenly, then add them to a stockpot on the stove with some cooking oil on medium heat. Season with half the salt. It will only take a few minutes to sauté them.
2. Add the Pumpkin
If using pumpkin puree or already roasted pumpkin, measure it out and add it to the pot. Stir well to combine. Add the garlic, salt and rosemary.
If you're cooking the pumpkin from raw in the stockpot, cut the pumpkin into chunks that aren't too big, about 2-3 inches square.
Season the pumpkin with the remaining salt and the rosemary. Saute the pumpkin with the vegetables for about 3 more minutes. Then add the garlic and saute for just a minute until aromatic.
3. Add the Broth
Add the broth and the garlic and give it all a big stir, making sure to get the browned bits up off the bottom of the pot.
If the pumpkin you added was already cooked, simmer for 5 minutes.
If you're cooking the pumpkin in the soup, allow the soup to simmer for about 30 minutes, to cook the pumpkin through. It's done when the pumpkin is fork tender.
Remove it from the heat.
4. Blend
Use an immersion blender to blend the soup until it's smooth.
I love the immersion blender because it allows you to blend the soup in the original pot and you don't have to get the full-sized blender involved. However, if you don't have an immersion blender, it's fine to use the blender. Make sure you take the plastic top piece off to allow the heat to vent as you blend.
Once the soup is blended, add the cream and stir it in. Taste it to make sure it's seasoned to your liking. Add a bit more salt until the flavor is right for you.
There are a few additional toppings you can use to dress up your soup, but it's just as tasty without any garnish. I'll sometimes add red pepper flakes, croutons, pumpkin seeds, or a sprinkle of paprika.
More Recipes from Delightfully Low Carb
Like this post? Be sure to save it on your Pinterest board for later! Click to follow our Pinterest boards so you can find all our recipes!
Keto Pumpkin Soup
This Keto Pumpkin Soup Recipe is perfect for a chilly fall or winter evening when you're craving a warming, savory soup.
Print
Rate
Ingredients
1

tbsp

olive oil

1/4

cup

onion

chopped

1/4

cup

celery

chopped

1 1/2

cup

pumpkin

see note 1

1

clove

garlic

minced

3

cups

vegetable stock

1

tsp

salt

1/4

tsp

rosemary

1/4

cup

heavy cream

optional

Pumpkin seeds

for garnish
Instructions
Heat the olive oil in a soup pot over medium heat. Add the onion and celery. Saute for 5 minutes.

Add the pumpkin, garlic, rosemary, and salt. Pour in the vegetable stock, then simmer for 10 minutes (30 minutes if the pumpkin is raw).

Remove from heat. Blend the soup using a stick blender until pureed and creamy.

Stir in the heavy cream.

Serve.
Notes
You can use canned pumpkin puree (1 can), or you can use fresh pumpkin. To cook fresh pumpkin in the soup, first peel and cube it, then add it to the soup pot with the chicken stock and cook on a low boil until tender.
It's best to blend soup with an immersion blender. Blend it just past the point of puree, until slightly frothy. This makes the best texture. If you use a blender, be sure to cool the soup slightly first as hot soup will erupt in the blender.
Nutrition
Calories:
109
kcal
|
Carbohydrates:
7
g
|
Protein:
1
g
|
Fat:
9
g
|
Saturated Fat:
4
g
|
Cholesterol:
20
mg
|
Sodium:
1298
mg
|
Potassium:
190
mg
|
Fiber:
1
g
|
Sugar:
3
g
|
Vitamin A:
4326
IU
|
Vitamin C:
5
mg
|
Calcium:
21
mg
|
Iron:
1
mg
The information shown is an estimate provided by an online nutrition calculator. It should not be considered a substitute for a professional nutritionist's advice.
Pin it for later!
Laura is an avid home cook and recipe creator. She shares her favorite low-carb recipes here that are both easy to make and full of flavor, so you don't even miss the carbs.