These juicy Garlic Rosemary Pork Chops are cooked in butter, rosemary, and garlic for a quick delicious dinner that is low in carbs and big on flavor.
» You might also like this Super Tasty Low-Carb Pizza Sauce and Healthy Baked Cod with Mango Salsa.
🥳New customers to ButcherBox get 2 packs of bacon FREE in every box for 1 year! Hurry, offer ends 8/13/23. SIGN UP HERE
With only a few simple ingredients, you can make a delicious garlic rosemary pork chop dinner. The butter, garlic and rosemary come together to give the pork a lovely aroma and a delicious taste. The pork chops are packed with flavor, but they pair with a variety of side dishes to make for an easy meal.
It only takes about 25 minutes to make these garlic rosemary pork chops, so they are the perfect dinner for a busy evening. Just because you don't have a lot of time in the kitchen, doesn't mean you can't make a scrumptious meal.
We love pork chops and will try just about any recipe that we come across. Cheese smothered pork chops and the pork rib chops with peppercorns are super easy and go with just about anything. If you want a treat be sure to try these oven-roasted tomahawk pork chops.
Ingredients You Need
Pork Chops – Use a pork chop that is about 1 to 2 inches thick and about 6 oz each. This recipe uses bone-in pork chops, but you can use boneless as well.
Salt & Black Pepper – Don't forget to season the pork on both sides before stuffing it, which will add a lot of flavor. Adjust seasoning to taste.
Butter – We always use salted butter. You could use unsalted butter if you want, but remember that salted butter gives savory foods an extra punch of flavor. Save your unsalted for baking.
Fresh rosemary – We are using fresh rosemary in this recipe. You could use dried rosemary if that is all you have.
Garlic – Garlic adds a lot of flavor and aroma. Be sure to use fresh garlic that hasn't been sitting in the fridge for too long. Garlic powder can be used, but it won't have the same great fresh flavor.
Olive oil – We use a high-quality, great tasting olive oil for this recipe because it adds a delicious flavor and spice. You can use a different type of oil, if you need to.
Equipment You'll Need
Oven-proof pan: It's best to use an oven-safe skillet or cast-iron pan that is at least 12 inches in diameter. Be sure that your pan doesn't have a plastic handle that will melt in the oven.
Meat thermometer: this isn't a necessary tool, but it will make sure that the pork is fully cooked and not over cooked. The internal temperature of pork should be 145 °F. We use this amazing instant-read Thermopen
How to Make Garlic Rosemary Pork Chops
Pre-heat the oven to 375° F.
While the oven is preheating, season the pork chops on both sides with salt and pepper. In a small bowl, stir together the melted butter, fresh rosemary, and garlic.
Heat the oil in a large oven-proof pan over medium high heat. As soon as the oil is shimmering, add the seasoned pork chops and sear them on both sides until lightly browned. It takes about 4 minutes per side.
Remove the pan from the heat and pour the butter mixture evenly over the top of the pork chops. You want to make sure all of the pieces get some of that love.
Transfer the pan to the oven and continue cooking the pork chops for 10 minutes. The time you'll need to cook them for will vary depending on the size of the chops. You want the internal temperature of the pork to reach 145° F on an instant read thermometer. The best way to make sure you've cooked it to the right temperature without going over or under is to test it occasionally with a meat thermometer. You can also use a bluetooth meat thermometer that you leave in the meat while it cooks.
When you've reached the desired temperature, remove the pan from the oven, transfer the pork to a plate and let it rest for 5 minutes before serving.
FAQs About the Recipe
Can you make the recipe ahead of time?
These pork chops will taste best fresh, but you can make them ahead of time. If not eating immediately, store them in an airtight container and eat them the next day. Heat the pork chops in the oven at 350°F in an oven-safe skillet with a bit of broth. Cover the pan with foil and heat them for about 10 minutes.
What else can I add to the pork chops?
There are many ways you can build upon the flavors in this pork chops recipe. Experiment with spices and see which you like the best. Some spice options are: parmesan, red pepper flakes, and parsley.
Can I use boneless pork chops?
Yes, you can, but it won't take as longer to cook. This recipe uses bone-in pork chops, but boneless is fine to use. The best thing to do is use a meat thermometer to make sure the pork chops are fully cooked and have an internal temperature of 145° F.
Tips and Notes
The pork chops should be 1-inch thick for even and faster cooking. If you use thicker or thinner chops, you'll want to watch the cook time to not over or under cook.
After cooking the pork, let the meat rest for a few minutes. This will keep the juices in the pork, and prevent dry pork chops. You can cover it in foil while resting if you are worried about the meat cooling too much.
Try this recipe with other types of meat like chicken or lamb. The garlic rosemary butter sauce goes really well with all of these types of meats.
Each oven is different, so the cooking times may differ. Cook it for more or less a few minutes, depending on your oven. The best way to be sure you've reached the temperature is by using a meat thermometer. Cook to 145° F for medium-well and 150° F for slightly more cooked.
What to Serve With This Dish?
If you're looking for a great side dish to serve alongside this main dish, why not try one of these recipes below. They will compliment this main dish very well and are all low in carbs so you can make a great keto or low-carb meal to enjoy.
Pin it! If you liked this recipe please share it on Pinterest so others can find it too. We always appreciate your support! Follow us on Pinterest and Facebook to keep up on what we're cooking up.
Garlic Rosemary Pork Chops
These juicy Garlic Rosemary Pork Chops are cooked in butter, rosemary, and garlic for a quick delicious dinner that is low in carbs and big on flavor.
Print
Rate
Ingredients
4

bone-in pork chops

1 inch thick

1

teaspoon

salt

1

teaspoon

ground black pepper

1/3

cup

unsalted butter

melted

1

tablespoon

fresh rosemary

minced

2

cloves

fresh garlic

minced

1

tablespoon

olive oil
Instructions
Preheat the oven to 375°F.

Season pork chops on both sides with salt and pepper.

In a small bowl, stir together melted butter, rosemary and garlic.

Heat oil in a large oven-proof pan over medium high heat.

Add the pork chops and sear on both sides, about 4 minutes per side. Remove from heat.

Pour butter mixture evenly over pork chops.

Transfer pan to the oven. Bake for 10 minutes, or until pork reaches an internal temperature of 140°F on an

instant read thermometer

. Remove from oven, transfer pork to a plate and rest for 5 minutes before serving.
Nutrition
Calories:
459
kcal
|
Carbohydrates:
1
g
|
Protein:
35
g
|
Fat:
34
g
|
Saturated Fat:
15
g
|
Polyunsaturated Fat:
3
g
|
Monounsaturated Fat:
13
g
|
Trans Fat:
1
g
|
Cholesterol:
158
mg
|
Sodium:
677
mg
|
Potassium:
602
mg
|
Fiber:
1
g
|
Sugar:
1
g
|
Vitamin A:
500
IU
|
Vitamin C:
1
mg
|
Calcium:
44
mg
|
Iron:
1
mg
The information shown is an estimate provided by an online nutrition calculator. It should not be considered a substitute for a professional nutritionist's advice.
Read More About a Low-Carb Lifestyle
Pin it for later!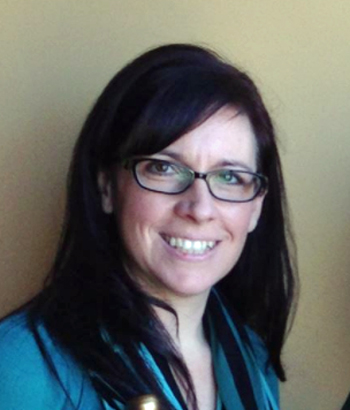 Angela lives a low-carb lifestyle in the Pacific Northwest with her two kids. She loves to read, cook, bake, try new recipes, and travel.