Pesto is a great condiment for those on a ketogenic diet, as it is low in carbs and high in fat. It is definitely keto-friendly, as long as it isn't made with extra sugars.
I always make my own pesto at home (recipe below), because then I know for sure what is being added to it. Some pestos can be higher in carbs than others, so be sure to check the label before you buy one at the store.
» You might also like How Many Carbs In Tomato Sauce?
There are also many keto-friendly pesto recipes that you can make at home with healthy ingredients. Pesto can be a delicious and easy way to add flavor to your meals while staying on track with your keto diet.
What is in Pesto?
Pesto is made with fresh basil leaves, pine nuts, Parmesan cheese, and olive oil. These ingredients are all keto-friendly and help to make pesto a delicious and healthy condiment.
Basil is a flavorful herb that is low in carbs and high in antioxidants. It is a great addition to pesto and helps to give it a rich flavor. If you have a basil plant at home, you'll have a quick and easy source of basil leaves with which to make pesto at home.
Pine nuts are a nutrient-dense nut that are high in fat and low in carbs. They add a lot of flavor to pesto, as well as thicken the texture, so it can be used as a spread or as a sauce. The high fat content in pine nuts make them especially good for a keto diet.
Parmesan cheese is a keto-friendly cheese that is high in fat and low in carbs. It is also high in calcium and protein, making it a great choice for those on a keto diet. When choosing a Parmesan to add, you want to get as high-quality as possible. Authentic Italian Parmesan is always best. Any cheese that's not refrigerated shouldn't be used.
Olive oil is a healthy fat that is beneficial for those on a ketogenic diet, with many other great benefits and advantages. It is low in carbs and helps to make pesto taste delicious. Always use a high-quality Extra Virgin Olive Oil for making pesto at home. A nice spicy, bitter olive oil is a huge part of what makes pesto so tasty.
Garlic is an optional addition to pesto, but it does add a lot of flavor and nuance to it, so definitely add some if you like garlic. Start with just half a clove and add more to taste. You don't want it to overpower the other flavors.
Is Pesto Keto-Friendly?
While pesto is a keto-friendly condiment, it can vary in terms of the amount of carbs it contains. Be sure to read the label before you buy pesto, as some brands can be higher in carbs than others.
For instance, when making pesto at home, one tablespoon of pesto will have 1 total grams of carbs per serving. There is also 1 gram of fiber in pesto, so there are technically 0 net grams of carbs.
A packaged pesto might have additional carbs due to sugars or extra preservatives they might add.
How to Make Pesto
Ingredients
1 oz fresh basil leaves
1 oz Parmesan or Pecorino Romano cheese crumbled or shredded
2 tbsp pine nuts toasted for extra flavor
3 tbsp extra virgin olive oil
1 small garlic clove
salt to taste
Instructions
Add all ingredients to a food processor or blender and puree for 30 seconds.
Stop to stir and push leaves down. Blend for an additional 15 seconds.
Add to food as desired.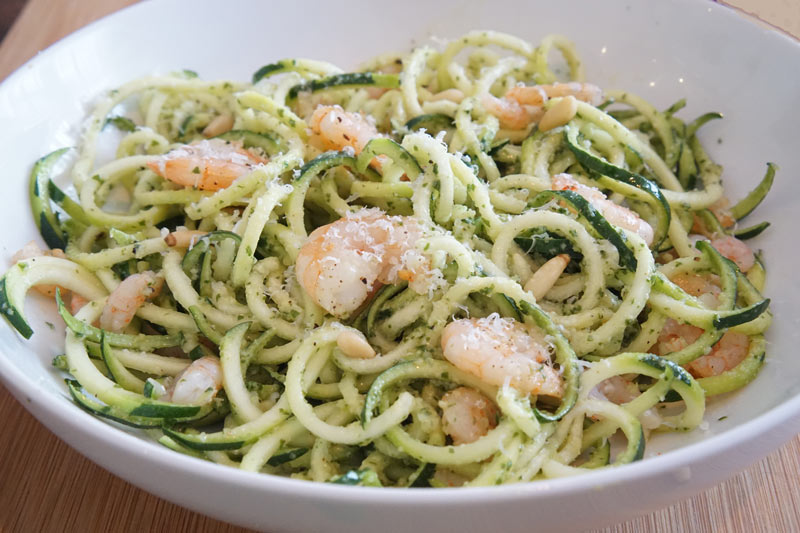 Low Carb Ways to Serve Pesto
One of the most common uses for pesto is as a sauce for pasta. Even on a low-carb diet, you can still enjoy it that way, you will just need to find a low-carb pasta alternative, like Miracle Noodles or Palmini Noodles. It's also great with zucchini noodles.
Other ways to use pesto in a low carb diet are:
Use it as a sauce for green beans (this is my favorite!)
Use it as a veggie dip
Stir it into a soup
Use it to baste veggies on the grill
As a marinade for meat (it's really good on chicken!)
Conclusion
As you can see, pesto does make a great low-carb and keto condiment and sauce. Making it at home is the best way to ensure there aren't any extra additives you don't want, but you can also find great store-bought brands.
Like this post? Be sure to save it on your Pinterest board for later! Click to follow our Pinterest boards so you can find all our recipes!
Laura is an avid home cook and recipe creator. She shares her favorite low-carb recipes here that are both easy to make and full of flavor, so you don't even miss the carbs.