These Halloween Spider Eggs are made by dyeing hard-boiled eggs, then stuffing them with egg filling. The spider design comes from black food coloring.
You might like these Halloween Jack-o-Lantern Stuffed Peppers and these Spooky Low Carb Halloween Treats.
Don't you just love Halloween, the time of year when the spooky and the scrumptious come together in a haunting blend of fun and flavor. We love making fun dishes for this time of year, but we also want them to be low in carbs. These Halloween Spider Eggs are the perfect solution.
Not only do these eggs bring a dose of eeriness to your Halloween table, but they also taste incredible. Trust me, it's like diving into a bowl of deviled eggs with a creepy twist that you won't forget.
Why We Love Making Halloween Spider Eggs
For us, Halloween is as much about the snacks as it is about the costumes and trick-or-treating. Halloween Spider Eggs are quick and easy to make, but their visual impact is huge. Plus, you'll love the surprised looks on your guests' faces when they realize these aren't your ordinary deviled eggs.
What makes them special is the spider web design on the outside of the egg, which is achieved by cracking the shell of the egg and dyeing it in a bowl of black-colored water. The cracks in the egg will start to darken in just an hour, but if you leave them for 2 or even over night, it'll be even better.
Ingredients Needed
Eggs – I use free-range eggs that have a nice orange yolk.
Water – To boil the eggs and mix with the food coloring.
Black food coloring – If you can't find black, you can mix blue and red.
Mayonnaise – Helps make the filling creamy and delicious.
Dijon mustard – Adds a kick of acidity that increases the flavor of the filling.
Salt – Go light at first and try it before adding extra, if necessary.
Orange food coloring – If your egg yolk are already orange, you won't need this. If you leave it out, they'll be more of a pale yellow.
Black poppy seeds – I used black poppy seeds and black sesame seeds.
Optional: Plastic spiders for garnish
How to Make Halloween Spider Eggs
Step One: Boil the Eggs
Place the eggs in a small pot, cover them with water, and bring it to a boil over high heat. Boil for 5 minutes. Turn off the heat and let the eggs sit for 10 minutes.
Step Two: Crack Them
Take the eggs out of the water and, when they're cool enough, lightly crack the shell by gently pressing with a spoon.
Step Three: Dye Them
In a bowl, mix cold water with black food coloring until the water turns dark. Put the cracked eggs back in and refrigerate for at least 2 hours or overnight. The longer you leave them in the coloring, the darker they will get.
Step Four: Make the Filling
After chilling, peel the eggs carefully. Cut them in half lengthwise and scoop out the yolk into a separate bowl. To the yolks, add mayonnaise, salt, and a drop of orange food coloring. With a fork, mash it all up and stir until it's smooth. Fill each egg half with the yolk mixture.
Step Five: Garnish
Before serving, sprinkle with black poppy seeds and, if you're going for full effect, place a plastic spider on top.
What to Serve with Halloween Spider Eggs
The Halloween Spider Eggs go well with other Halloween-themed snacks. Think "Witch's Fingers" breadsticks or a "Bloody Mary" tomato soup. They also stand alone as a statement piece on a snack table full of traditional Halloween goodies.
How to Store Halloween Spider Eggs
If you have leftovers (though I highly doubt you will), you can store these eggs in an airtight container in the refrigerator for up to 2 days. Just be sure to add the poppy seed garnish and plastic spiders only right before serving to keep them looking fresh and creepy.
Tips for the Best Outcome
If you've made deviled eggs before, you know the maddening process of getting the eggs to peel without taking off some of the whites with it. One of the tricks for this is to start with older eggs. Fresher eggs are harder to peel. You can also try to peel them under water, but you don't want to dilute the color.
I like to say, don't worry about perfection. It's very difficult to get all the eggs peeled without incident. Don't worry about it. They'll still look and taste great!
You can turn the egg yolk mixture any color you like. We sometimes add avocado to ours to make it green. Red is fun too.
Frequently Asked Questions
Can I use other food coloring instead of black?
Yes, you can, but the black coloring gives it that uncanny, Halloween touch. Other colors may not create the same spook factor. If you must, combine blue and red for a purple hue.
How long can I keep the dyed eggs in the refrigerator before peeling?
You can keep them for up to 24 hours for a more intense color. I wouldn't leave them too much longer than that for freshness.
Can I make them spicier?
Absolutely! Feel free to add a dash of cayenne or paprika to the yolk mixture for some heat. I've also found that you can add sriracha for coloring, rather than the orange food coloring.
And there you have it: a freakishly delicious dish that's perfect for Halloween. These Halloween Spider Eggs are sure to be a hit, elevating your Halloween snack game from mere child's play to an art form. So go ahead, spook your guests with some edible arachnids this year. Happy haunting!
Pin it! If you liked this recipe please share it on Pinterest so others can find it too. We always appreciate your support! Follow us on Pinterest and Facebook to keep up on what we're cooking up.
Halloween Spider Eggs
These Halloween Spider Eggs are made by dyeing hard-boiled eggs, then stuffing them with egg filling. The spider design comes from black food coloring.
Print
Rate
Ingredients
4

eggs

cold water

black food coloring

1

tablespoon

(

14

g

)

mayonnaise

1/8

teaspoon

(

0.75

g

)

salt

1

drop orange food coloring

1/8

teaspoon

(

0.38

g

)

black poppy seeds
Instructions
Put the eggs in a small pot and cover with water over high heat.

Bring to a boil and boil for 5 minutes.

Turn off heat and let sit for 10 minutes.

Remove the eggs from the water. When cool enough, use a spoon to gently press on each egg to crack the shell.

In a bowl just large enough to fit the eggs, mix cold water and black food coloring until the water is dark.

Place the cracked eggs back into the water. Refrigerate for at least 2 hours or overnight.

Remove the eggs from the refrigerator and discard the water.

Carefully peel the eggs. Cut them in half lengthwise and scoop out the yolk, placing them in a bowl.

Add the mayonnaise, salt, and food coloring to the yolks. Use a fork to mash and combine.

Scoop the mixture into each egg half.

Chill until ready to serve.

To serve, garnish with black poppy seeds and plastic spiders, if desired.
Nutrition
Calories:
87
kcal
|
Carbohydrates:
0.3
g
|
Protein:
6
g
|
Fat:
7
g
|
Saturated Fat:
2
g
|
Polyunsaturated Fat:
2
g
|
Monounsaturated Fat:
2
g
|
Trans Fat:
0.03
g
|
Cholesterol:
165
mg
|
Sodium:
157
mg
|
Potassium:
61
mg
|
Sugar:
0.2
g
|
Vitamin A:
240
IU
|
Calcium:
25
mg
|
Iron:
1
mg
The information shown is an estimate provided by an online nutrition calculator. It should not be considered a substitute for a professional nutritionist's advice.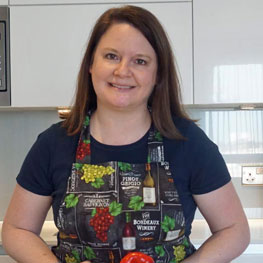 Laura is dedicated to a low-carb lifestyle after losing 52 pounds on the keto diet. As many of us do, she struggles with her weight and has found that one of the only diet lifestyles that allows her to maintain a healthy weight is a low-carb diet.  She shares her favorite low-carb recipes here that are both easy to make and full of flavor, so you don't even miss the carbs.