One of the easiest things to make on a keto diet is a casserole with chicken and vegetables. In a casserole, you don't need a filler like pasta, bread, or rice and I guarantee you won't miss the carbs in these delicious casserole recipes.
» Go here for 31 Quick & Easy Keto Chicken Dinner Ideas
Casseroles are our number one go to when we have leftover chicken and veggies. Another tasty way to use leftovers is in stuffed peppers. Think about is as a way to enjoy your favorite sandwich without the extra carbs from the bread.
Use whatever ingredients you have in your refrigerator, you'll definitely be able to find something to make in the list below. Use that left over cauliflower, or toss in some chilies and cheese. We know you're going to love it.
Add substance to a casserole by adding cauliflower rice or noodles alternatives like Miracle Noodles or zucchini noodles.
These recipes were collected from our site and other low-carb food bloggers. To see the full recipe, just click the link.
Other recipe compilations you might like:
Keto Baked Crack Chicken
This keto-friendly Baked Crack Chicken combines chicken, cream cheese, bacon, shredded cheddar, and Ranch dressing mix into an irresistibly good main dish.
Get the recipe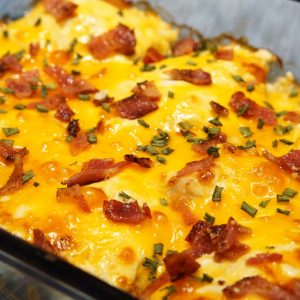 Chicken Cauliflower Casserole
This Chicken Cauliflower Casserole is super cheesy, creamy, and flavorful, with bacon bits, and green onions for garnish. It makes a great side dish or main dish.
Get the recipe
Low-Carb Chicken Fajita Casserole
This low-carb chicken fajita casserole is made with chicken strips, peppers, onions, cheese and flavorful fajitas seasoning. It comes together quickly and makes a very satisfying and delicious low-carb dinner.
Get the recipe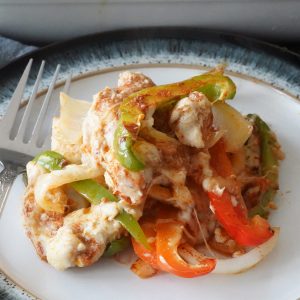 Chile Relleno Casserole
This keto chile relleno casserole has just 5 ingredients but tons of flavor!  Poblano peppers are charred over open flames, juicy chicken, cream cheese, and gooey cheddar jack in every fork full.
Get the recipe
Cheesy Chicken Spaghetti Squash Casserole
With only 9 g of total carbs, this Cheesy Chicken Spaghetti Squash Casserole is creamy, savory, comforting, and SO easy to make for dinner tonight. It's also perfect to make in bulk and freeze for later!
Get the recipe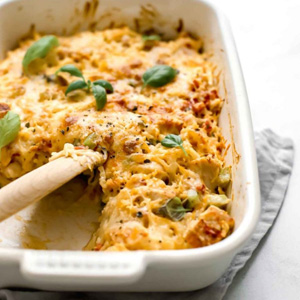 Low-Carb Chicken Cordon Bleu Casserole
This delicious, creamy chicken cordon bleu casserole is so simple to prepare that it makes for the perfect low-carb dinner recipe. You can also prepare the recipe ahead and freeze for added convenience.
Get the recipe
Keto Chicken Taco Casserole
Add some serious flavor to your casserole with this Chicken Taco Casserole! Big, tender chunks of chicken and a plate licking worthy sauce make this a dinner winner! 
Get the recipe
Keto Cheesy Chicken and Broccoli Casserole with Cauliflower Rice
This low-carb dinner casserole is a comfort food favorite! It is creamy, cheesy, and loaded with vegetables. At only 8 net carbs per serving this keto meal will be everyone's favorite.
Get the recipe
Buffalo Ranch Chicken & Cauliflower Casserole
If you need to mix up the weeknight dinner routine this Buffalo Ranch Chicken & Cauliflower Casserole is absolutely amazing! It's made with simple, easy to find ingredients and assembled with hardly any work at all!
Get the recipe
Find Something You Like?
With so many great chicken casserole ideas, I'm sure you found something you'll love. Leave a comment below and let us know what you tried.
Time for dessert! We love how rich and delicious these keto chocolate cheesecake bites and keto brownies are. If you are not into chocolate you might like a mug cake, which is done in only a minute and a half. This low carb carrot cake, keto lemon cake and keto cinnamon roll are our favorites.
Like this post? Be sure to save it on your Pinterest board for later! Click to follow our Pinterest boards so you can find all our recipes!
Pin it for later!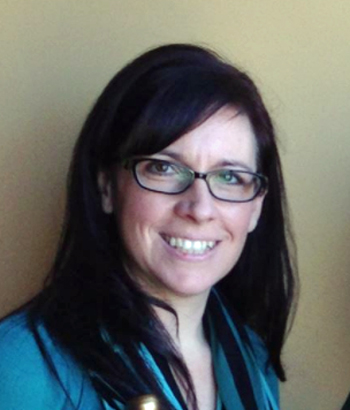 Angela lives in the Pacific Northwest with her two kids. She loves to read, cook, bake, try new recipes, and mix cocktails.