These Low-Carb & Keto Bowl Recipes are perfect for meal planning when you're on a keto diet. You're going to love the variety of flavors and ingredients in these delicious low carb bowls.
Most lunches and dinner meals end up being keto bowls for me because there's so easy to put together and they don't require any extra carbs to make them delicious. Leave the bread and starch out of your meal while packing it full of veggies, protein and healthy fats.
» You might also like: 8 Simple Ways to Cut Calories & Lose Weight
Try One of These Low Carb Bowls
Low Carb Pork Belly Bowls
This low-carb Pork Belly Bowl is packed with cabbage, cucumbers, avocado, edamame and delicious pork belly.
Get the recipe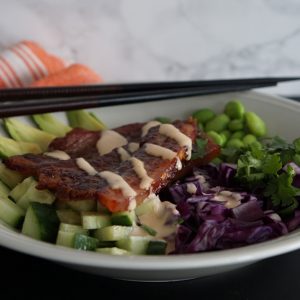 Keto Burrito Bowls
These keto burrito bowls are filled with seasoned chicken, cauliflower rice and cheese. They are so easy and delicious you won't miss the tortilla at all.
Get the recipe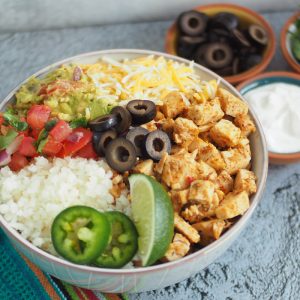 Keto Breakfast Bowls
These keto breakfast bowls are packed with protein, healthy fat, and veggies so you'll get a great start to the day without the carbs.
Get the recipe
Low-Carb Burger in a Bowl
This loaded burger bowl has everything you love about a burger in a keto-friendly format. Ditch the bun and try this Burger in a Bowl instead.
Get the recipe
Keto Philly Cheesesteak Bowl
These Low-Carb Philly Cheesesteak Bowls are filled with strips of beef, onions, green peppers, and mushrooms, then topped with a creamy cheese to bring it all together.
Get the recipe
Korean Beef Bowl
Easy enough for a tasty weeknight dinner, this keto Korean Beef Bowl has enough flavor to satisfy everyone at the table!
Get the recipe
Easy Egg Roll in a Bowl
A low-carb way to enjoy the flavors of a classic egg roll with cabbage, pork, carrot, ginger and soy sauce.
Get the recipe
Chicken Katsu Ramen
Chicken Katsu Ramen Bowl Recipe made keto/whole30/paleo. Air fried katsu chicken with keto ramen noodles are the best combo for ramen lovers.
Get the recipe
Keto Chicken Gyro Bowl
This Keto Chicken Gyro Bowl is a delicious Greek salad that skips the lettuce and uses all of ingredients you'd find in a Greek chicken gyro recipe. Top it with a keto version of homemade tzatziki sauce for the perfect meal!
Get the recipe
Easy Shirataki Noodles with Creamy Paleo "Peanut" Sauce
Shirataki Noodles recipe tossed with creamy paleo peanut sauce. This low carb konjac noodle recipe is no cook and super tasty served cold!
Get the recipe
Italian Salad aka Antipasto Salad
This Italian Salad will wow your friends at your next barbecue with a myriad of flavors. It is the perfect antipasto salad for any occasion.
Get the recipe
Like this post? Be sure to save it on your Pinterest board for later! Click to follow our Pinterest boards so you can find all our recipes!
Pin it for later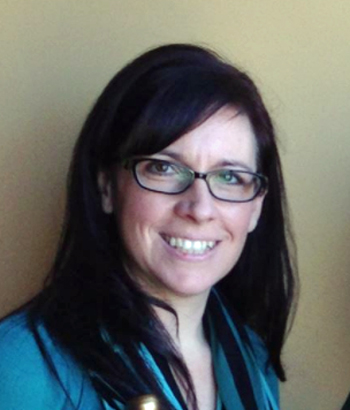 Angela lives in the Pacific Northwest with her two kids. She loves to read, cook, bake, try new recipes, and mix cocktails.